Festive grape tree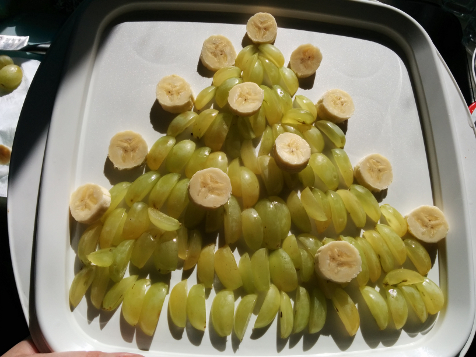 It's that time of year again! The time when bringing a plate to an event becomes a normal, though at times stressful, request. Today I was headed to a daycare Christmas party and they requested a plate to share. I asked about dietary requirements and I was told that they had one child who had a lot of allergies and one vegetarian child. So I was racking my brains for something to make.
Then it came to me. I had seen a lot of really cute Santa inspired snacks made with grapes. I was imagining putting together those cute Grinch fruit kebabs (one green grape, one whole strawberry as the hat and a white marshmallow as the hat pom-pom on a kebab stick) when it occurred to me how dangerous that could be in a daycare. While fruit is delicious and healthy, whole fruit like strawberries and grapes are a choking hazard. A sharp stick in the hands of a three year old is probably ill-advised as well!
Recently there have been a few choking incidents reported in the news, and they often involve whole grapes. I always knew they should be cut in half, but with the recent incidents I discovered something I didn't know - the safest "half a grape". The grape should be cut in half lengthwise rather than through the middle width. The issue with grapes is that they can get stuck at their widest part if they are not properly chewed.
A choking child is something that I have experienced first-hand. It's something I would not wish on anyone. While our choking incident had a happy ending, it could so easily have gone badly. So armed with the new information, I didn't make the Grinch kebabs. However, what I did make was still pretty cute.
You Will Need
A platter – white or neutral colour is best, but anything will do at a pinch

Seedless green grapes (you could also use slices of kiwifruit)

A banana (you could also use strawberries or a combination of both)
Cut your grapes into quarters lengthwise, and then place them on the platter in a rough triangular tree shape. Slice the banana in 5 mm thick slices. Then place them around the tree like decorations. If we had strawberries I would have also sliced the strawberries into 5mm thick slices, to add a pop of red colour to our decorations.
If you had a selection of small cookie or fondant cutters you could cut the banana slices or strawberry slices into shapes. I could also have added some chocolate or caramel sauce as tinsel lines around the tree.
My tree was very well received at daycare. They took photos and commented on it several times. It was cute and healthy, yet very easy to put together. I would say that it took no more than 15 minutes to prep the fruit, and to place it on the platter. It would be an easy plate for your children to help you create as well.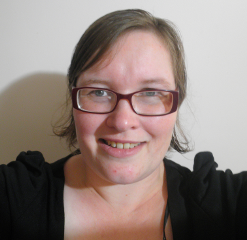 This blog was written by Kym Moore. Kym loves to write when she isn't working, hanging out with her two awesome daughters, or spending time with her awesome husband after bedtime.
NB Comments are moderated by Kidspot and must not contravene our
Terms of Service
.