Guns in the hands of children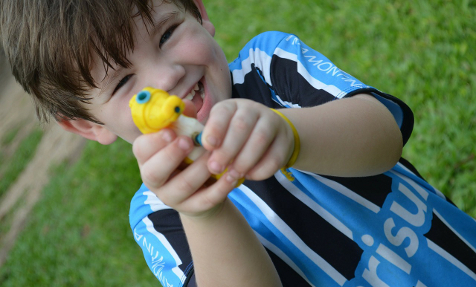 In March 2016, news from the United States reported that a fervent pro-gun activist was accidentally shot in the back by her four year old son. The mother, Jamie Gilt, was driving when her son picked up a loaded .45 semi-automatic handgun from the back seat and shot her. The bullet passed through the seat, injuring Ms Gilt. The boy was unharmed.
Ms Gilt had posted on social media previously about her Second Amendment rights to bear arms and, according to New York Daily News, had boasted about how her son gets "jacked up to target shoot with the .22" just the day before the shooting.
Putnam County Sheriff's Office confirmed that, '"The investigation by Major Crimes Unit Detectives and the analysis of the crime scene confirmed that the victim was accidentally shot by the young boy who was sitting in the back seat of the vehicle."
Every year, approximately 3000 children aged under 14 are injured or killed in accidental shootings in the United States. Over 80% of the deaths occur in the victim's own home or that of their friends or family. Whilst accidental shootings in New Zealand are rare, there are still occurences, with the majority involving hunting.
In many of the American cases, parents have a firearm for protection. And in many cases parents have overestimated their child's maturity to follow rules about handling firearms or underestimated their child's ability to access guns that are kept in the home.
Guns do not discriminate between a curious child and an intruder. In a country that fervently protects its right to bear arms under the US Constitution, the American Academy of Pediatrics concluded, "The absence of guns from children's homes and communities is the most reliable and effective measure to prevent firearm-related injuries in children and adolescents."
The following video features a report from American journalist Diane Sawyer and reveals some shocking findings about gun ownership and the safety of children.
For information on gun laws within New Zealand, visit the NZ Police website and read up on The Arms Code. The Arms Code includes:
You are required by law to have a safe and secure place to store your firearms. All firearms and ammunition should be stored separately, out of the reach of children, out of view and in a secure room, rack or cabinet approved by your Arms Officer.
Sources include Vox.comand Minnesota Post.