What to do with leftover Christmas ham and other goodies in the fridge?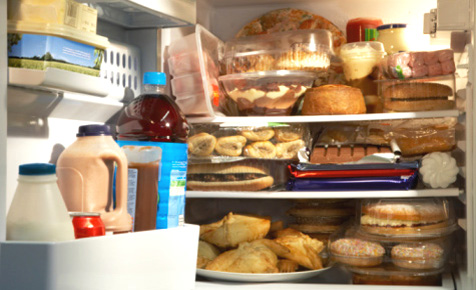 The guests are gone, the gifts are piled up. You are going on a picnic and the beach is calling. You don't feel like cooking or shopping and the fridge is heaving with leftovers from Christmas dinner. What are you going to do with all that food? Here are some simple and delicious options.
Leftover ham
If you buy a leg or half-leg of ham you are more than likely to have some leftover. Use a ham bag to retain freshness in the fridge and make sure that you rinse the ham bag out in a solution of 2 parts water to 1 part white vinegar every two days. This keeps it moist. You can slice the ham as you need it; use if for omelettes, quiches and pasta. Don't forget to leave a little meat on the bone and cook it up into a nice soup at the end.
Green eggs and ham
Impossible quiche - Replace the bacon with ham.
Savoury muffins
Muffin pizzas
Toasty ham and cheese croissants
Spaghetti with creamy ham sauce
Tortilla stacks
Split pea and ham soup recipe - This is for the ham bone when it is all finally finished!
Leftover roast vegetables
Sometimes there is a stack of roasted veggies left after Christmas lunch, probably because there were so many other delicious foods to eat. Here are a couple of great ways to use them up.
Roast vegetable Frittata
Balsamic roast vegetable salad

Leftover chicken and turkey
Chicken and turkey can be interchanged in recipes. Take care that you have followed food safety guidelines and not left it out of the fridge for too long. I prefer to debone chicken and turkey before putting it back in the fridge for convenience and to save room.
Chicken and cheese pasta bake
BBQ chicken salad for the exhausted shopper
Chinese chicken and sweet corn soup
Chicken fried rice
Leftover Christmas cake and pudding
Were your guests too full for pudding and custard? You will be surprised to know that Christmas puddings have a fridge life of around 24 months. I have often heard of people making their puddings a year in advance, which allows the flavours to mature. If you just want the space in the fridge, these pudding pops are fun to make with the kids. Alternately, you can crumble up the cake or pudding and stir it through some good quality vanilla ice-cream, with an optional slosh of brandy, and refreeze it.

Christmas pudding pops

Happy New Year!
Find related food articles