6 basic steps to meal planning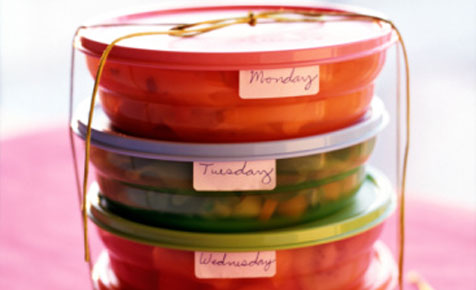 Love the IDEA of meal planning but can't seem to get started? Follow these six basic steps and you'll be on the road to menu management in no time.
1)
Ask the family what they like

This may seem dangerous, but you'll be much more likely to succeed at meal planning if everyone likes what's put on the table and in their lunch box. So before you sit down with grand plans to devise a varied menu that ticks all the budget and health boxes, make sure it also has the family's tick of approval first by asking them what THEY would like to eat that week. Ask your kids to write a list of their favourite meals, sandwiches and snacks and have these requests at the ready when devising your menu - you may need to reach a compromise though if the kids requests are all junk food!
2)
Shop at home first

It's amazing how many meals and ingredients we already have sitting in our pantry and fridge but all too often we go food shopping and never use these up. This is where meal planning really pays off. Use our pantry, fridge and freezer inventory to take stock of the goods you already have then plan to incorporate these in your meal plan and only shop for the extra ingredients you need.
3)
Get recipe inspiration

It's hard, actually almost impossible, to plan a full week's menu with just a pen and blank piece of paper - you need to feel inspired! Kidspot Kitchen is bursting with family-friendly dinner, lunch box, breakfast ideas and more, so spend a little time browsing the recipes and meal planning will be a cinch.
4)
Plan for savings

Make use of those supermarket specials catalogues by planning meals around the discounts advertised. You'll not only save money, but this is also an easy way to structure your meal plan for the week. A good strategy is to check out what meat, poultry or fish is discounted that week and then work your meal plans around these specials. Don't get the hardcopy pamphlets?
5)
Create your meal plan

Using our easy weekly meal planning printable template create a plan for the week that you can stick on the fridge so the whole family can see it. If you're really keen, you could even plan a month's worth of meals using this monthly meal planner. You'll never have to hear the whining tunes of "mu-um, what's for dinner" ever again!
6)
Make a shopping list

Build a customised shopping list that lists the ingredients you need for your meal plan and take it with you when shopping. Do this and you'll never have to dash to the shops at 6pm for a last-minute dinner ingredient ever again.

If you prefer to hand-write your shopping list, print out this shopping list template and fill it in. We also have a printable shopping list that you can simply print off and check off the items as you shop.

NOTES: Thanks to our sister company Kidspot Australia for creating the printable templates.