Sweet potatoes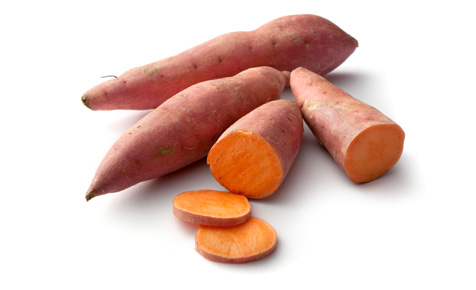 Sweet potato is a tuber type vegetable which is actually not a potato at all. It is vegetable grown on a sprawling vine called a morning glory. Sometimes known as the Kumera, it is a very popular vegetable in the South Pacific area having been adopted into the cuisines of Melanesians, Maoris and Polynesians. Sweet potatoes are now readily available in Australia and are often used in roast dinners, soups and stews. Its bright colours give away its high nutritional value and it may be used in sweet and savoury dishes alike.
Sweet potato varieties
Sweet potatoes are sold as colours rather than varieties and may come in deep orange, white purple or red.
How to select and store sweet potatoes
Sweet potatoes are available year round but are in season during May, June and July. When selecting you need to choose sweet potatoes that are well formed, have smooth skin and are uniform in colour. To store sweet potatoes you need to keep them in a cool, dark place. Do not store in the refrigerator.
Best ways to cook sweet potatoes
You can use sweet potato pretty much as a replacement in any recipe that contains potatoes or pumpkin whether it is sweet or savoury.
Mashed - Steam and mash for pies, pie toppings and for making lentil burgers or baby foods. Add them to scones and soups.
Roasted – Give them a drizzle of olive oil and roast in the oven like you would pumpkin and potatoes.
Deep fried – Slice into extra thin slices or batons. Soak in cold water for an hour, dry them off and deep fry them in hot oil for chips!
Barbecued - Cut them into thick disks and throw them on the hot plate.
Stuffed – Stuff them with a mince mixture and bake them in the oven.
How to cook sweet potato
You may peel and remove the ends of your sweet potato but you can also leave the skin on as it is edible. Cut into same sized pieces and steam or boil until soft. This will take around 8-10 mins.
TIP!
I like to use gloves when peeling and cutting sweet potato as they give off a milky sap from the cut flesh.
Sweet potato recipes to try