30 top lunch box treats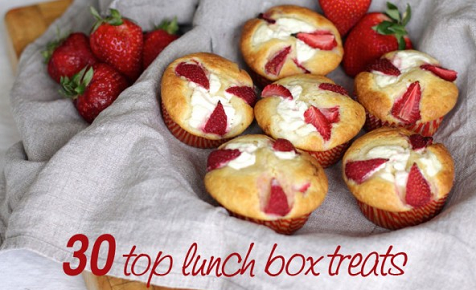 My go-to lunch box treat is a slice of homemade banana bread, mainly because you can bet your life that by the end of the week there will be two or three manky bananas begging to be used up somehow. Sometimes I branch out and make these banana pancakes or banana biscuits instead but I get it, I really do, when the kids ask if I can please stop the banana-fest for a week or two. They could, of course,just eat the darn bananas in the first place but that's another story …
Here are 30 of the best tried-and-tested snacky bites that I turn to instead. From slices to scones, from muesli bars to muffins; there's something for even the fussiest eater. And the best bit? Lunch boxes always come back empty!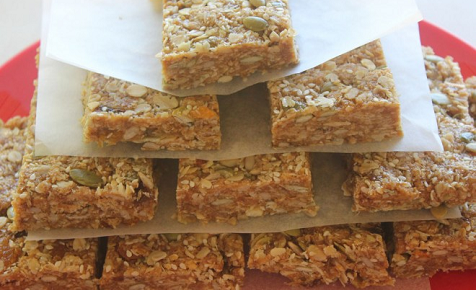 Cereal bars
1. Nut-free muesli bar
Apricots, raisins, seeds but NO NUTS! This is one muesli bar recipe that you can pop in their lunch boxes without a worry.
2. 2-ingredient muesli bar
Just two ingredients? Why yes! Amazing how much so very little can make.
3. Oat and apricot bars
Combine oats (a slow release carb that will keep energy levels up) with dried apricots (full of iron) and you, my friend, have a lunch box winner.
4. Homemade LCM bars
So I may be pushing the cereal bar description just a teensy bit here but, hey, they've got rice puffs in them and there are plenty of cereal bars on supermarket shelves boasting the same!
5. Easy muesli bars
I had you at 'easy', didn't I? This recipe's the one to grab when you're having a 'there's nothing to put in their lunch boxes' moment.
6. Fruit and honey lunch box bars
Juicy fruit and sweet honey give these more-ish treats a deliciously moist bite.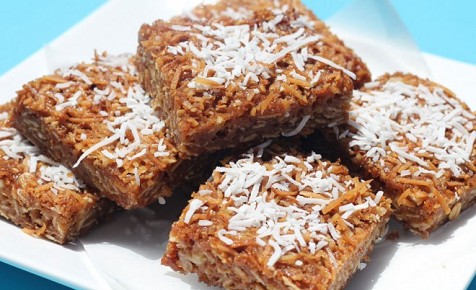 Slices
7. Anzac slice
Oats, golden syrup and coconut … this is the oh-so-chewy slice version of our favourite bickies and oh-so-good for lunch boxes.
8. Weet-Bix slice
An oldie but a goodie and the perfect way to use up the Weet-Bix crumbs that gather at the bottom of the cereal packet. This version's got a sweet icing as a topping, too.
9. Nutella crumble slice
Oh my, Nutella in any form is ace but this? This crumble concoction is a whole new flavour sensation.
10. Marshmallow bubble slice
How easy is this? Melt some marshmallows, fold in some rice puffs et voila, your lunch box treat is sorted.
11. Wholemeal pear slice
This one will have you polishing your halo. The goodness of wholemeal flour with juicy pear makes a delectable addition to any boring old lunch box.
12. Sugar and spice slice
Cinnamon and nutmeg are the stars of this easy slice. Perfect if your cupboard is almost (but not quite) bare.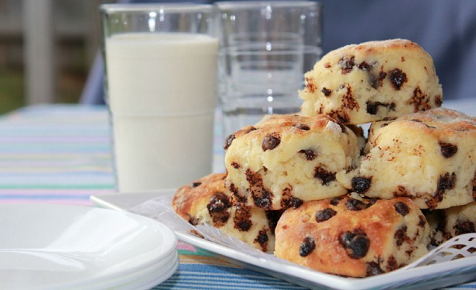 Scones
13. Choc-chip scones
There's something comforting about a batch of scones. These are just like Granny used to make but even better thanks to the addition of some cheeky choc.
14. Gluten-free scones
Little ones with an intolerance to gluten shouldn't miss out on all the lunch box fun. These gluten-free scones will make sure they don't.
15. Easy pumpkin scones
Sneak some veggies in to their diet with these scrummy pumpkin scones. Perfect with a slice of cheese and perfect for the beginning of the week if you've got some leftover roast pumpkin from Sunday lunch.
16. Cheese and zucchini scones
If your kids are bored with the same old sambos, try these savoury scones instead. A slice of cheese or some fresh ham make the perfect filling.
17. Mini scones
Little hands and little tummies will love these mini scones which are the perfect size to hold and munch.
18. Sultana scones
Light, fluffy and studded with juicy sultanas. Yum!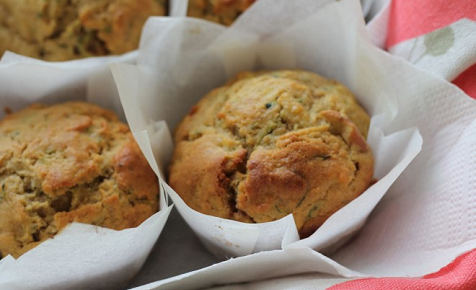 Sweet muffins
19. Strawberry and ricotta muffins
These pretty-as-a-picture fruity muffins taste as good as they look. Berry good, in fact.
20. Blueberry muffins recipe
Keep some frozen blueberries on hand in the freezer and you'll always have some ready to make these lunch box lovelies.
21. Apple and zucchini muffins
Adding grated zucchini to these little bites of yum mean the kidlets eat veggies without knowing it (yay!) andyou get a super moist muffin to boot (double yay!).
22. High-fibre mini choc-chip muffins
There's something about a mini muffin that's so darn cute, you just can't help popping one or two (or indeed, three) in your mouth. These have the added bonus of being high fibre and having choc chips. What's not to love?
23. Oat, date and honey muffins
These muffins boast a trifecta of goodness and yum. Oats keep blood sugar levels steady, dates are full of fibre … and honey? Well, honey just tastes divine.
24. Carrot cake muffins
Another way to get more veggies into reluctant eaters, these muffins take all the best bits of your regular carrot cake and turn them into perfectly portioned lunch box bites. There's even a cream cheese icing if you're feeling a bit fancy.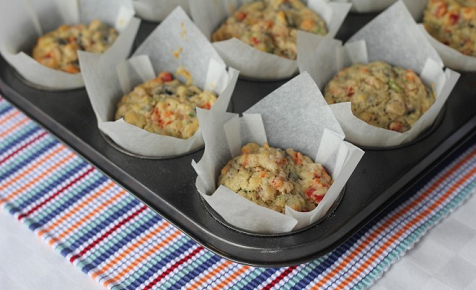 Savoury muffins
25. Savoury lunch muffins
Ham, mushrooms, capsicum and cheese? These are a veritable lunch in themselves, all wrapped up in muffin form.
26. Feta and spinach muffins
These are a party staple at our place (they go down a treat with a G&T) but I always make a double batch as the kids like them, too. The saltiness of the feta is what gets them, I think. Plus, I add spinach to everything so these win on that front too.
27. Sneaky pumpkin muffins
Pumpkin adds a beautiful sweet flavour to these ostensibly savoury muffins and, might I be so bold as to suggest, that they go wonderfully with a slice of tasty cheese?
28. Cheesy bacon and corn muffins
Cheese + bacon + corn = the perfect savoury muffin in my book. My kids agree.
29. Mini baked bean muffins
I don't know a kid who doesn't like baked beans so turning them into muffins is a genius idea. A fibre and protein hit? Excellent stuff.
30. Pesto and parmesan muffins
My youngest adores pesto so these are always a great hit. They're pretty nice for adults too.