Healthy yoghurt bites recipe
These yoghurt bites are very easy to make and taste delicious. They are perfect for toddlers to practice their pincer grip. Find more on Kidspot New Zealand.
Category:
After school snacks, Budget, Easy recipes, Frozen treats, Healthy recipes, Toddler
Ingredients:
1 x tub 175g strawberry yoghurt
1 resealable bag
scissors
tray
spoon
Method:
Step 1. Gather yoghurt, bag and scissors and spoon.
Step 2. Place opened bag in a cup and pour yoghurt into bag.
Step3. Snip tip of the corner of the bag off.
Step 4. Pipe small dots of yoghurt onto a cooled tray and place in the freezer.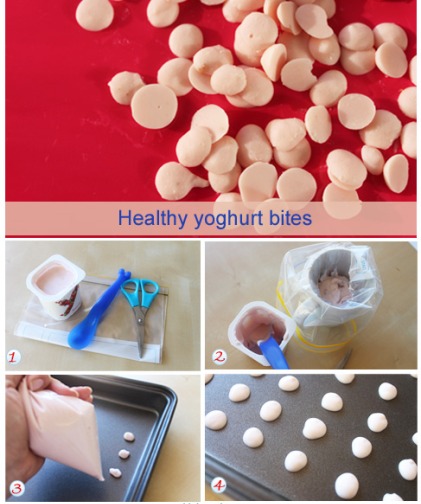 Notes:
To speed up the process I placed my tray in the freezer before piping the yoghurt.
Removing the bites from the tray was easy. You can just give them a gentle push and they pop off. For extra quick removal, you can line the tray with baking paper.
These are small and melt fairly quickly so you should only serve small amounts at a time.
This recipe was created by Jennifer Cheung for Kidspot, New Zealand's best recipe finder.
Find more frozen treat recipes: