2 ingredient macaroons recipe
These yummy macaroons are the perfect quick sweet treat that the kids will love helping to make. They're also super speedy to whip up if you have unexpected guests as they'll be done and dusted in 20 minutes!
Category:
After school snacks, Basic recipes, Biscuits and cookies, Budget, Cakes & Baking, Cake stall, Kids cooking, 2 ingredient recipes
Ingredients:
500g desiccated coconut
1 tin (395g) sweetened condensed milk
Method:
Step 1. Preheat oven to 180°C (160°C fan-forced). Line a baking tray with baking paper and set aside.
Step 2. In a bowl, combine the coconut and sweetened condensed milk.
Step 3. Drop tablespoon-sized balls of the mixture onto the baking tray.
Step 4. Place into the oven and bake for 10-12 minutes or until lightly golden.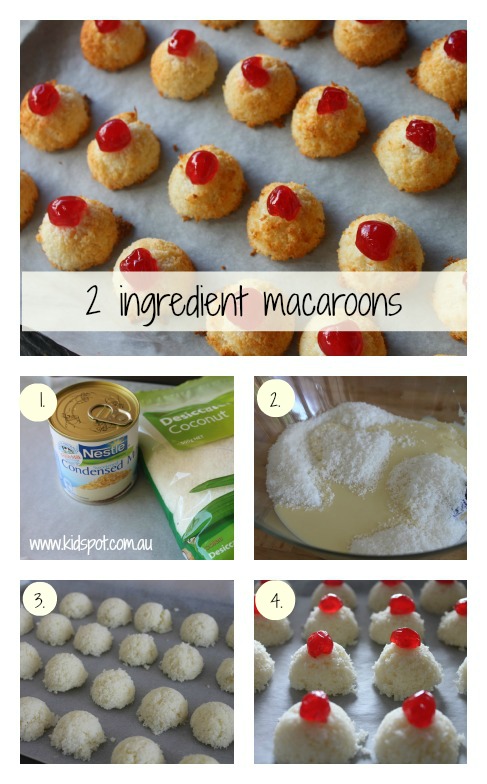 Notes:
I used a tablespoon measure for these and then just popped them out and onto the tray. You can use a little spray oil to coat the measure and they'll slide out easily.
I decorated these with halved glace cherries which is technically a third (but non-essential) ingredient - they'll just ooked so cute!
This recipe was created by Jennifer Cheung for Kidspot, New Zealand's best recipe finder.
Find more biscuit and cookie recipes.