Easter bunny biscuits recipe
Are you looking for a cute cooking activity to do with kids this Easter? These little bunny biscuits are fun and need no real cooking, only mixing and decorating.
Category:
Easter treats, Food kids will eat, Kids cooking, Party food
Ingredients:
1 pkt (250g) arrowroot biscuits
1 cup icing sugar, sifted
20-60ml water
1 cup coconut flakes
black writing icing
1 pkt (200g) M&M's
1 pkt mini marshmallows
1 pkt (240g) 2 Metres of licorice
1 pkt (250g) marshmallows
1 pkt (85g) creaming soda flavoured jelly crystals
Method:
Step 1. Gather all ingredients and place decorations in bowls.
Step 2. You can use scissors to snip licorice strips for the whiskers.
Step 3. Place the biscuits on a lined baking tray. In a small bowl, mix the icing sugar with the water, a little at a time until you have a thick paste. You may not need all of the water.
Step 4. Spread a layer of this paste on each biscuit and press face down into shredded coconut immediately. You will need to work quickly as this icing sets fast.
Step 5. Place remaining icing in a resealable bag and snip off a tiny corner. This will be the glue to stick on the face. Using the icing, place two M&M's into place for eyes and one for the nose.
Step 6. Place mini-marshmallows under the nose for bunny teeth. Affix the licorice as bunny whiskers with the icing. Touch a tiny dot of black icing to the M&M's to give the bunny pupils.
Cut a marshmallow in half and squeeze to make the shape of a bunny ear, Dip the cut side in the jelly crystals and use a little of the leftover icing to fix into place.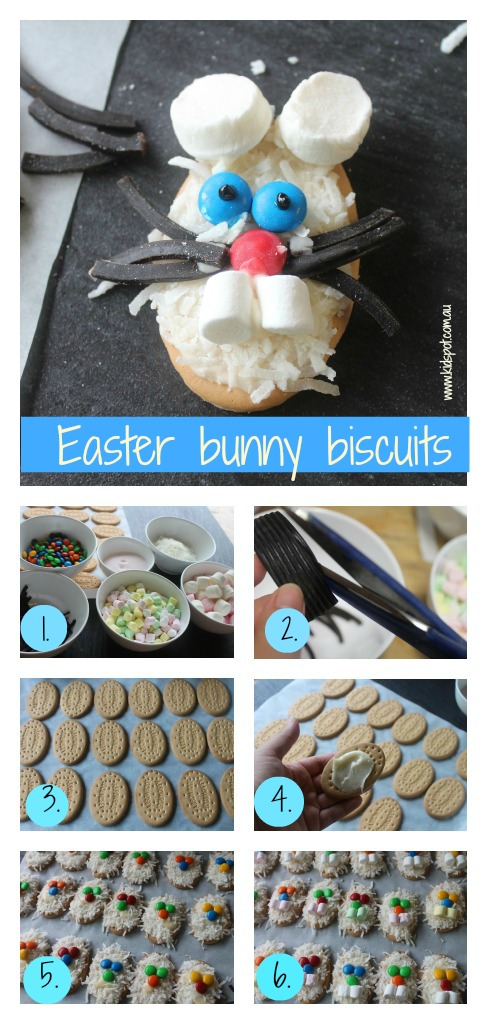 Notes:
This icing sets hard quite quickly so if you have all of your ingredients prepared it will make these easier to assemble.
If you have an orange, you can use the juice in place of the water to create an orange flavoured icing.
Thanks to our sister company Kidspot Australia for the helpful instructional picture collage and video.
This recipe was created by Jennifer Cheung for Kidspot, New Zealand's best recipe finder.
Find related Easter recipes