2 ingredient pancakes recipe
Did you know you could make pancakes with just two ingredients? Well you can and we are going to show you how so they're the best 2 ingredient pancakes ever!
Category:
2 ingredient recipes, After school snacks, Basic recipes, Breakfast, Brunch, Budget, Healthy recipes, Food kids will eat, Kids cooking, Pancakes
Ingredients:
3 small ripe bananas
3 eggs, lightly beaten
Method:
Step 1. Mash bananas well.
Step 2. Whisk in eggs until well combined.
Step 3. Heat a non-stick frying pan over a low-medium heat. Pour in 1/3 of a cup of the batter. Cook until bubbles form all over the surface and flip. Cook a further 1-2 minutes and serve.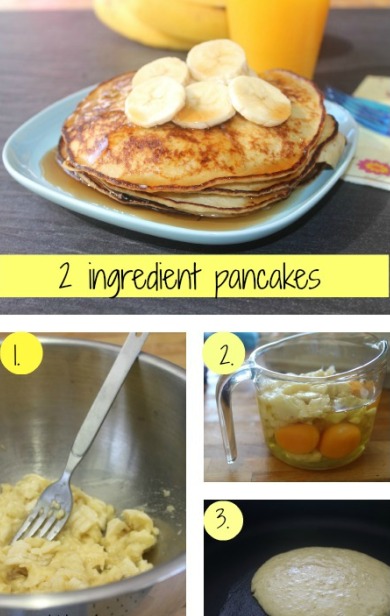 Notes:
I cheated and cooked mine in a little butter because I love butter.
You could grease your pan with cooking spray if you don't have a non-stick pan, too.
You could serve these with berries and yoghurt, maple syrup and banana slices or even Nutella and strawberries.
Ratio is everything in this recipe. You need around 1/3 cup of mashed banana per egg - which is equal to about one small ripe banana.
If you cook these really fast they will stay mushy inside. Make sure you use a low-medium heat for the best results.
This recipe was created by Jennifer Cheung for Kidspot, New Zealand's best recipe finder.
Find related pancake recipes