Strawberry mice recipe
Looking for some party food for toddlers? These delicious strawberry mice are a great healthy choice and cute to boot!
Category:
After school snacks, Healthy recipes, Kids cooking, Food kids will eat, Party food
Ingredients:
1 punnet strawberries
black writing icing
1/4 cup mini chocolate chips
1/4 cup almond flakes
2 straps raspberry licorice
100g Swiss cheese
Method:
Step 1. Remove the green stems from each strawberry. Slice a small slice from one side of each strawberry so it will sit flat on the plate.
Step 2. Use the black writing icing to stick a choc chip on the pointy end as a nose.
Step 3. Use the writing icing to create eyes. Poke 2 slots with a sharp knife and slide in 2 almond flakes as ears per mouse.
Step 4. Use a skewer to poke a hole into the berry and slide in the licorice as a tail. Cut the cheese into wedges and serve with the strawberry mice.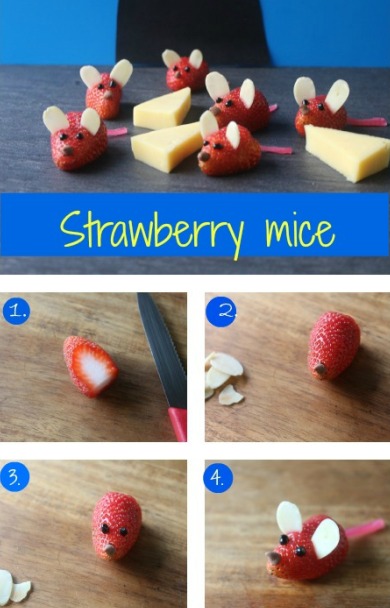 Notes:
Toddlers will love these cute strawberry mice and they're perfect for a Cinderella-themed party.
You can use any cheese wedges you prefer for this dish. Just make it the type of cheese that your kids like.
This recipe was created by Jennifer Cheung for Kidspot, New Zealand's best recipe finder.
Find related kids party recipes: