Easy peanut brittle recipe
Peanut brittle is delicious and so cheap to make. This is the perfect confectionery to give as a gift. It's fast and easy and a classic favourite.
Category:
Ingredients:
375g unsalted peanuts
4 cups (880g) caster sugar
2 cups (500ml) water
150g butter, chilled and cubed
Method:
Step 1.Line 2 slice trays (28 x 18cm) with baking paper. Spread half of the peanuts in each tray and set aside.
Step 2. Place the castor sugar and water in a heavy-based saucepan over a medium heat and whisk together until the sugar is dissolved. Bring to the boil and continue to boil for 25 minutes until the sugar mixture is a light golden brown.
Step 3. Use a wet pastry brush to brush down the sides of the pan and then remove from heat and quickly whisk in butter.
Step 4. Pour half of the mixture into each tray and rotate so all of the peanuts are covered. Leave to set. Break into shards and serve.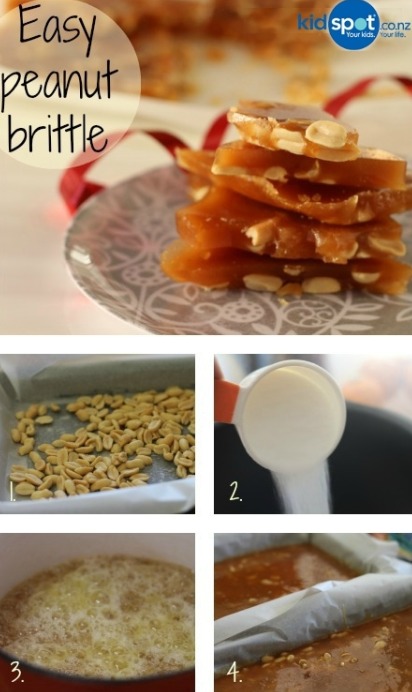 Notes:
I like to give the baking paper a spray with canola oil so it doesn't stick at all.
If you have macadamia nuts they can be used as a luxurious substitution for the peanuts.
This recipe was created by Jennifer Cheung for Kidspot, New Zealand's best recipe finder.
Find more delicious sweet recipes: