3 ingredient golden syrup pudding recipe
If you are looking for an easy dessert that is made from pantry ingredients then this 3 ingredient golden syrup pudding is for you. It's a bit like a roly poly and tastes just as good.
Category:
Ingredients:
1 sheet ready-rolled puff, defrosted
1/2 cup golden syrup
1/2 cup (125ml) milk
Method:
Step 1. Preheat oven to 220°C (200°C fan-forced). Set aside a small baking or gratin dish. Spread golden syrup over the pastry sheet.
Step 2. Take one corner and fold 3cm towards the centre, then continue to fold over and over.
Step 3. Fold pointed ends to the centre and place in a small baking dish. Pour the milk evenly over the roll.
Step 4. Bake for 25 minutes.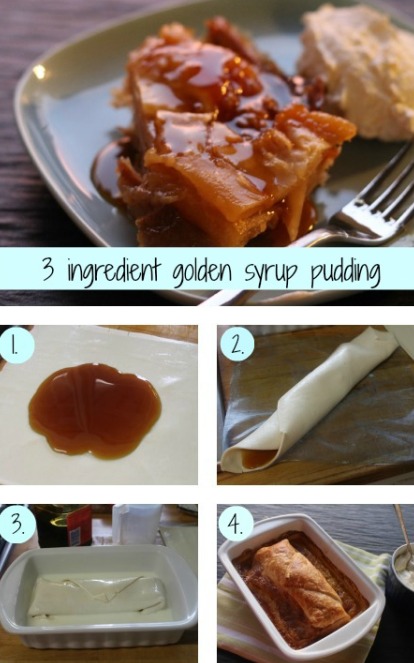 Notes:
You can serve this with cream, ice cream, custard or yoghurt. I served it with yoghurt to cut through the sweetness.
This served two greedy people but you could make a few rolls and place them all side by side in a dish to serve more people.
This recipe was created by Jennifer Cheung for Kidspot, New Zealand's best recipe finder.
Related hot dessert recipes