Meringue Christmas tree recipe
It may be baking hot outside, but you can bring the magic of a white Christmas indoors with this stunning edible Christmas tree. It's the perfect centrepiece for a white and silver-themed Christmas party.
Category:
Christmas cuteness, Christmas desserts
Ingredients:
200g mini meringues
silver cachous/pearls
For royal icing:
1 eggwhite
1 1/2 - 2 cups (230-310g) icing sugar, sifted
1/2 tsp lemon juice
You will also need:
24x48cm piece white cardboard
stapler
clear sticky tape
cling wrap
Method:
Step 1
Cut a semicircle from the cardboard with a diameter of approximately 24cm i.e. a straight edge of 48cm. Fold long edge in half and bring the straight edges together, overlapping slightly, to form a cone. Use a stapler to fasten it securely, then use sticky tape to smooth over the join. Wrap the cone in a couple of layers of cling wrap, tucking it underneath. (Hint: Use a little glue on the cardboard to ensure the cling wrap sticks down evenly and smoothly.)
Step 2
Make royal icing by beating eggwhite together with icing sugar and lemon juice. You will need a thick consistency so add more icing sugar if required.
Step 3
Use a knife to spread a thick layer of icing over the wrapped cone.
Step 4
Place remaining icing in a small resealable bag and cut a 1/2cm hole in one corner. Pipe a small amount of icing onto the flat bottom of each meringue and stick them onto the cone, beginning at the base.
Step 5
Continue with remaining meringues, working upwards in a circular fashion.
Step 6
Finally, pipe a little icing into the spaces between the meringues and, using tweezers, place silver cachous.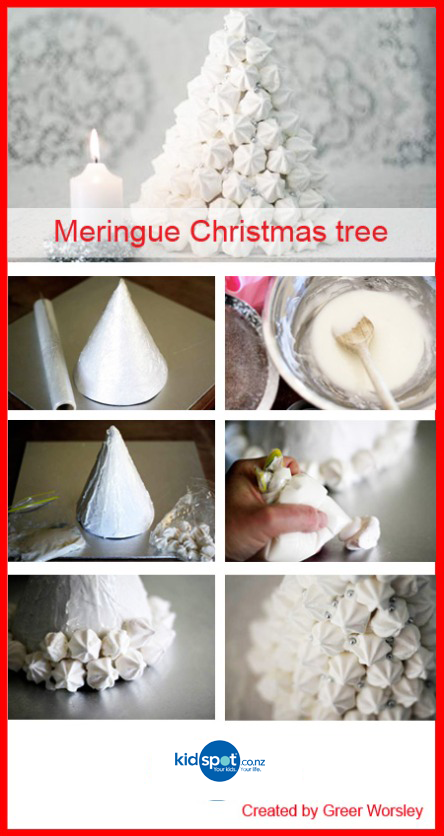 Notes:
You can purchase mini meringues in the baking aisle at supermarkets.
Royal icing will eventually set quite hard, but if you find the icing is running or dripping down the cone, it isn't thick enough. Add more icing sugar before proceeding.
Recipe by Greer Worsley, who blogs at Typically Red.
Find related sweet Christmas recipes