3 ingredient chocolate crackles recipe
These cute chocolate crackles have just three ingredients and none of them are the dreaded Copha! These aren't health food but they are EASY!
Category:
3 ingredient recipes, Chocolate, Kids cooking, Party food
Ingredients:
200g compound chocolate
1/4 cup (20g) desiccated coconut + a little for sprinkling
3 cups rice bubbles
Method:
Step 1. Place chocolate in a glass heat-proof bowl and microwave on medium high for 1 minute and then stir well. You may need to heat in further 10 second bursts to entirely melt.
Step 2. Add the coconut to the bowl and stir.
Step 3. Pour in the rice bubbles.
Step 4. Stir to coat with chocolate and fill patty pans or cupcake cups with mixture, sprinkle with coconut and refrigerate for 10 minutes to set.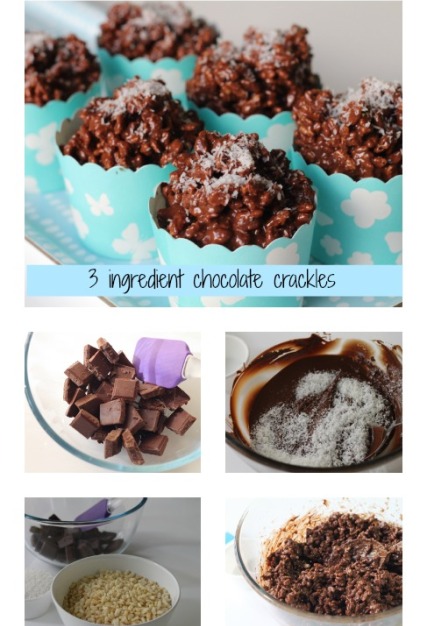 Notes:
I used compound chocolate because it has the correct setting point for this recipe.
You can sprinkle the top with coated chocolate chips or nuts or even flaked coconut.
These look really cute with a cherry on top.
This recipe was created by Jennifer Cheung for Kidspot, New Zealand's best recipe finder.
Find more chocolate baking recipes