Edible glitter berries recipe
Chocolate-dipped strawberries are a lovely, simple, and delicious dessert. Make them extra festive by using white chocolate and green coloured sugar for a special Christmas treat.
Category:
Dessert, Christmas cuteness, Christmas desserts
Ingredients:
250g punnet fresh strawberries, washed, patted dry
250g pkt white chocolate melts
1 cup (220g) coloured sugar
Method:
Step 1. Set out a large tray lined with baking paper. Place the chocolate chips into a large heat proof bowl and the sugar or sprinkles into a smaller bowl for dipping
Step 2. Melt the chocolate in the microwave in short bursts on a medium setting, stirring well between each one. Be careful not to overheat the chocolate, stop microwaving chocolate when there are still some pieces not quite melted and stir well.
Step 3. Holding the strawberry by the stem, dip it into the melted chocolate, swirling it around to make sure it is three-quarters covered in chocolate. Allow any excess chocolate to drip back into the bowl.
Step 4. Dip the chocolate-coated strawberry into the coloured sugar or sprinkles, coating the end of each berry well.
Step 5. Place the dipped strawberries on the tray and refrigerate until set, approximately 15 minutes.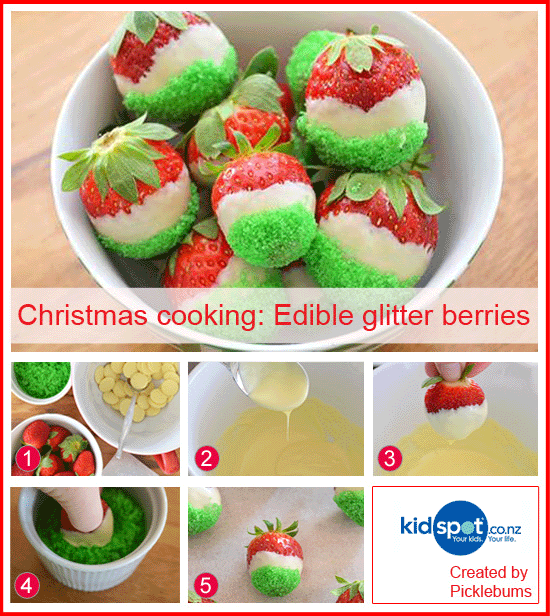 Notes: