Magic cake recipe
The magic in Magic cake is that it separates into layers in the oven with little-to-no effort from you. It has a sponge top and custard centre.
Serving Size:
8-12
Category:
Cakes & Baking, Dessert, Easy cake recipes
Ingredients:
4 eggs (separate yolks from whites), room temperature
3/4 cup (150g) sugar
1/2 cup (125g) butter, melted
1 tsp vanilla extract
3/4 cup (115g) plain flour, sifted
2 cups (500ml) milk, lukewarm
2 tbsp icing sugar, sifted
Method:
Step 1. Preheat oven to 170°C (150°C fan-forced). Line a 15cm x 25 cm baking dish with baking paper and set aside. Separate eggs and beat the whites in a clean, dry bowl until they form stiff peaks. Set aside.
Step 2. In a large bowl, beat the egg yolks with sugar until light and frothy and then beat in butter and vanilla extract. Add flour a little at a time until well incorporated. With the mixer running add the milk a little at a time until combined.
Step 3. Gently fold in egg whites until combined and pour into dish.
Step 4. Bake for 45-70 minutes or until a light golden crust is formed on the top of the cake.
Dust sifted icing sugar generously over the top of the cake and serve.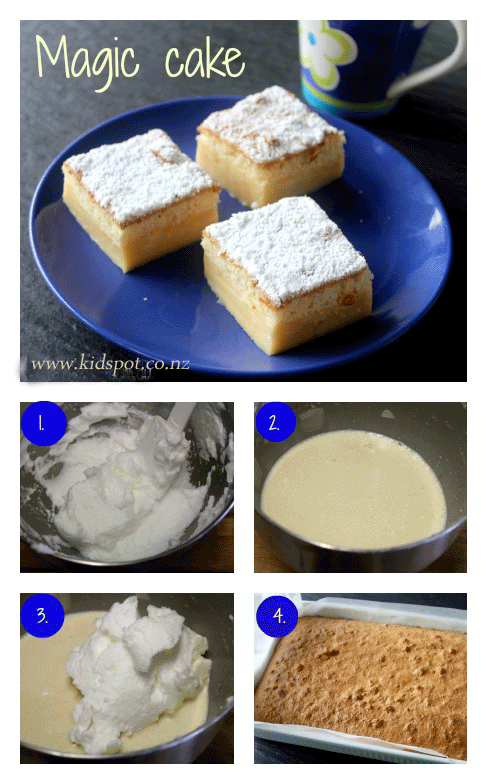 Notes:
The variation in cooking time depends on how well you follow the directions. Room temperature eggs, lukewarm milk and melted butter all make a big difference.
After you add the milk you will have a very liquid mixture. Don't panic! It will come together in the end.
This recipe was created by Jennifer Cheung for Kidspot, New Zealand's best recipe finder.
Find more delicious cake recipes: