Fruit and yoghurt roll-ups recipe
These delicious frozen fruit and yoghurt rolls start with plain flour tortillas and end up as a healthy snack that your kids will love. Pop them into their lunch box or serve them up after school for a healthy snack.
Category:
After school snacks, Easy recipes, Frozen treats, Fruit
Ingredients:
1/2 cup (110g) sugar
1 tbsp ground cinnamon
1/4 cup (60g) butter, melted
10 flour tortillas
1 1/2 cups (390g) vanilla yoghurt
500g mixed frozen berries
Method:
Step 1. Mix cinnamon and sugar and place on a plate.
Step 2. Brush a tortillas with melted butter and press into cinnamon and sugar mixture.
Step 3. Place on a plate, cinnamon side down and spread a few tablespoons of yoghurt on the tortilla.
Step 4. Place berry mixture in the centre of the tortilla and roll up. Place on a tray and freeze.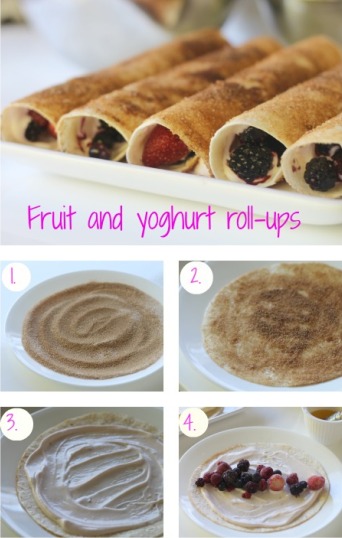 Notes:
You don't have to freeze these. They taste great without being frozen and the berries defrost quickly.
I used mixed frozen berries without defrosting them for this recipe.
You can make these with a few different fillings. They also taste great with custard and apple pie filling.
This recipe was created by Jennifer Cheung for Kidspot, New Zealand's best recipe finder.
Find related fruit recipes