Hummus & Salad Wraps recipe
You can of course buy your hummus but homemade is so easy to make and very economical. Store left over hummus in a covered container in the fridge for up to a week.
Serving Size:
Makes 2 Wraps
Category:
Ingredients:
1 x 400g can chickpeas, drained and rinsed
2 cloves garlic, roughly chopped
2 tablespoons lemon juice
2 tablespoons tahini
salt to taste
1 teaspoon ground cumin
3 tablespoons extra virgin olive oil
2 x Tip Top Supersoft or Oatilicious wraps
½ cup grated carrot
1 cup shredded lettuce
Method:
Place the chickpeas, garlic, lemon, tahini, salt, cumin and 2 tablespoons of water into a food processor and pulse until well mixed and almost smooth. If the consistency is too thick then add a little more water and pulse again. Lastly mix in the olive oil.
Spoon the hummus onto each wrap making a line close to one edge and cover with carrot and lettuce.
Roll up tightly.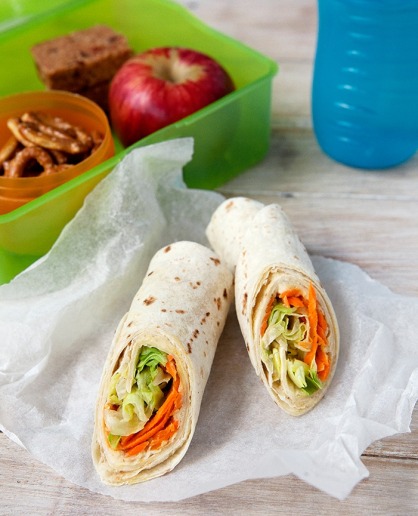 Find more Tip Top Wrap recipe ideas: