Coconut oil granola recipe
This granola - or toasted muesli - is packed with seeds, nuts and coconut and toasted with maple syrup and coconut oil. It has sweetness added with raisins and dried cranberries.
Category:
Breakfast, Brunch, Healthy recipes
Ingredients:
4 cups rolled oats
1 1/2 cups natural seed mix (pepitas, sunflower kernels and pine nuts)
1 cup pecan nuts
2 cups shredded coconut
1/2 cup (125ml) unrefined coconut oil, warmed
1/2 cup (125ml) maple syrup
1 cup raisins
1 cup dried cranberries
Method:
Step 1. Preheat oven to 180°C (160°C fan-forced). Line two baking trays with baking paper and set aside. Gather ingredients and warm coconut oil.
Step 2. In a large bowl combine the oats, seed mix, pecans and one cup of the shredded coconut. Pour over coconut oil and maple syrup. Stir well to coat the entire mixture.
Step 3. Distribute over trays evenly and bake for 25 minutes, stopping to stir every 5 minutes. Stir through the raisins, remaining shredded coconut and dried cranberries.
Step 4. Cool and keep in an airtight jar. Serve with milk or yoghurt.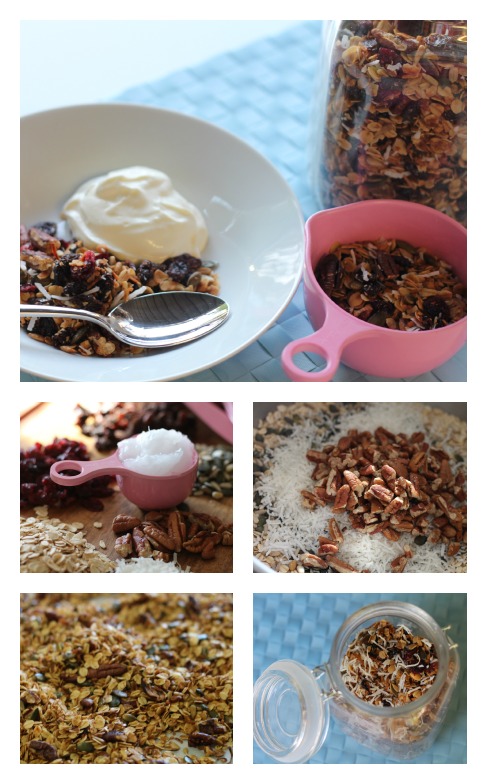 Notes:
You can warm the coconut oil in the microwave for 10 seconds.
I used maple flavoured syrup but you can use honey instead if you choose.
You can choose your favourite dried fruits to add to this mix.
This recipe was created by Jennifer Cheung for Kidspot, New Zealand's best recipe finder.
Find muesli bar recipes: