Taco lasagne recipe
This easy taco lasagne has delicious layers of Mexican flavoured beef, with tortillas, salsa and beans. It's a simple Mexican oven bake.
Category:
Ingredients:
1kg minced beef
1 medium onion, diced
1 medium red capsicum, diced
2 sachets taco seasoning
1 cup (250ml) water
1 tin (400g) diced tomatoes
1 tin (400g) corn kernels, drained
1 tin (425g) Mexe-beans
1 pkt (6) tortillas
1 tin (435g) refried beans
3 cups grated cheese
sour cream, to serve
salsa, to serve
2 green onions, sliced to garnish
Method:
Step 1. Preheat oven to 180°C (160°C fan-forced). In a non stick frying pan over high heat, brown the mince and add the onion and capsicum. Cook for 5 minutes. Sprinkle in the taco seasoning and add water, stirring well. Bring to the boil. Add the tomatoes, corn kernels and Mexe-beans and reduce heat to simmer for 5 minutes.
Step 2. Cut 3 tortillas into quarters. Lay one whole tortilla into a baking dish and then lay 4 quarters with the pointy side into the corners to cover the entire base.
Step 3. Spread half of the refried beans over the tortillas and pour over one third of the mince mixture. Sprinkle over 1 cup of cheese. Repeat and then finish with a layer of tortilla, mince and cheese.
Step 4. Bake for 20-25 minutes or until the cheese on top is golden. Serve with dollops of sour cream, salsa and green onions as a garnish.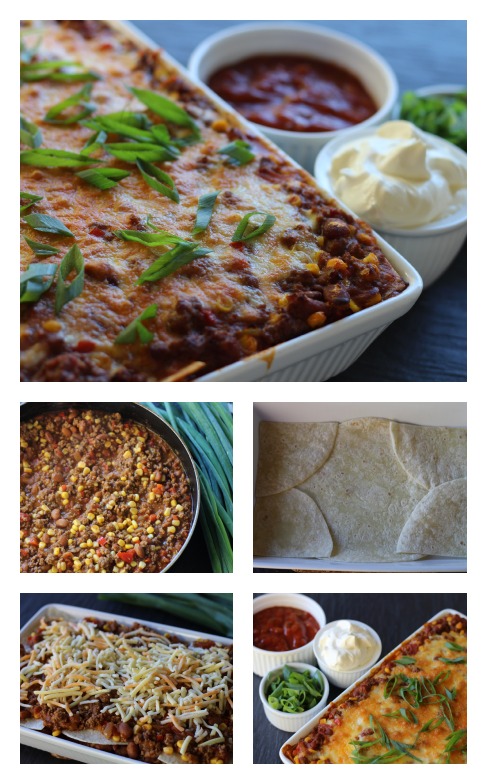 Notes:
The tortillas need a fair amount of moisture to soften up so it's OK if the mince mixture is fairly wet.
There are so many variations that you can make to this recipe. If you want to amplify the flavour you can add sliced black olives.
This recipe just calls out to be served with a nice spicy guacamole.
This recipe was created by Jennifer Cheung for Kidspot, New Zealand's best recipe finder.
Find related lasagne recipes