Zucchini brownies recipe
These zucchini brownies are chocolatey, moist and devoid of any zucchini flavour. Sneak extra veggies into the kids' diet with this delicious treat.
Serving Size:
12
Category:
Cakes & Baking, Chocolate, Healthy recipes, Hidden vegetables
Ingredients:
1 1/2 cups (225g) white sugar
1/2 cup (125ml) vegetable oil
2 tsp vanilla extract
2 cups (300g) self-raising flour
1/4 cup cocoa, sifted
2 eggs, lightly beaten
1 tsp salt
2 cups finely grated zucchini (approx. 2 medium zucchini)
1 cup chocolate chips
3 tbsp pure icing sugar
Method:
Step 1. Preheat oven to 180°C (160°C fan-forced). Line a 20cm x 20cm cake tin with baking paper and set aside. In a bowl, combine sugar, oil, vanilla, flour, cocoa, eggs and salt.
Step 2.Stir in the zucchini and chocolate chips until well combined.
Step 3. Pour mixture into prepared tin.
Step 4. Bake for 30-35 minutes or until cooked through. Cool and sift icing sugar over the top. Cut into squares.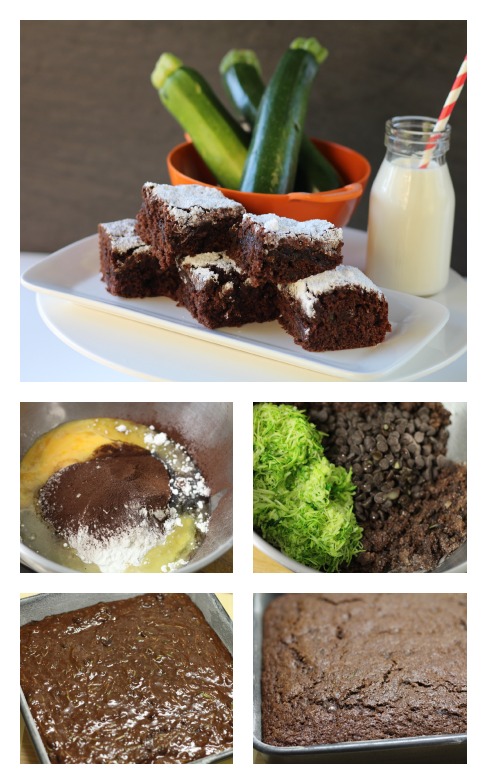 Notes:
This mixture is really dry before you add the zucchini. Stir in the zucchini and chocolate chips until well combined.
You don't need to squeeze moisture out of the grated zucchinis.
If you don't have chocolate chips, you can add 200g of melted chocolate in its place.
This recipe was created by Jennifer Cheung for Kidspot, New Zealand's best recipe finder.
Find related brownie recipes: