Skinny spaghetti recipe
If you are hankering for spaghetti but need a lighter alternative, this tasty recipe may just hit the spot. It is packed full of flavour and is so easy to make.
Serving Size:
4
Category:
Dinner, Healthy recipes, Pasta
Ingredients:
200g thin spaghetti
1/2 cup continental parsley, chopped
3 tbsp breadcrumbs
2 tsp garlic salt
1 tsp cracked black pepper
3 tsp extra virgin olive oil
juice of one lemon
1 punnet Perino tomatoes or any cherry tomatoes, halved
parmesan cheese to serve
Method:
Step 1. Cook pasta according to packet directions and leave in water until ready to use.
Step 2. In a large bowl combine the parsley, breadcrumbs, salt and pepper.
Step 3. Lift the wet pasta from the water and add to the bowl with olive oil and lemon juice. Toss together until well coated.
Step 4. Add tomatoes and season well with salt and pepper. Garnish with parmesan cheese and serve.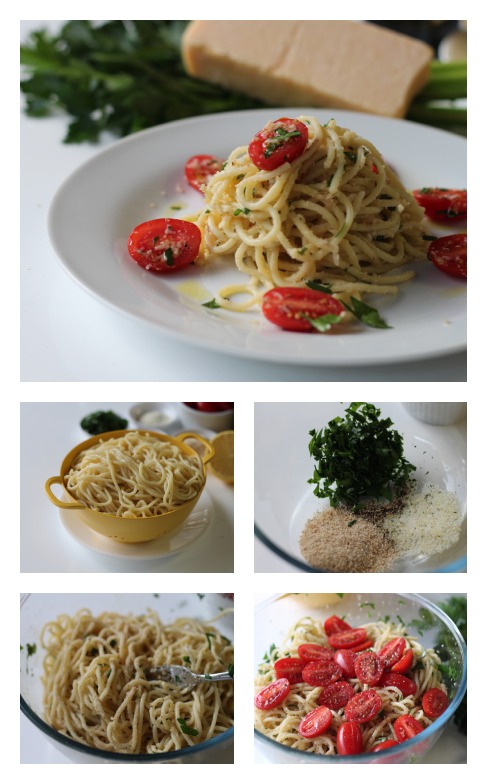 Notes:
I gather the ingredients while the pasta is cooking and set the table so I can eat this warm. But it is also very nice cold.
Instead of draining the pasta I like to lift the pasta from the pot and add it to the bowl so it's still wet. This helps to distribute all of the flavours.
Perino tomatoes are small oval snacking tomatoes but any cherry or pear tomatoes will do the job, so long as they are ripe.
This recipe was created by Jennifer Cheung for Kidspot, New Zealand's best recipe finder.
Find related healthy dinner recipes