3 ingredient Nutella croissants recipe
These 3 ingredient Nutella croissants are heavenly, flakey, bite-sized pastries and they are easy to make.
Serving Size:
12
Category:
3 ingredient recipes, Cakes & Baking, Nutella recipes
Ingredients:
3 sheets frozen, rolled puff pastry
1 cup Nutella
1 egg, lightly beaten
Method:
Step 1. Preheat oven to 200°C (180°C fan-forced). Line a baking tray with baking paper and gather ingredients.
Step 2. Place pastry on a cutting board and cut each square in half and then cut each rectangle diagonally so you have 4 right-angled triangles. Proceed the same way with the other two sheets so you have 12 triangles altogether.
Step 3. Place a teaspoon of Nutella in the middle of the shortest end of each triangle and brush the remaining tail with beaten egg.
Step 4. Roll each pastry up. Bend a curve in each pastry when rolled.
Step 5. Place on baking tray and brush with beaten egg.
Step 6. Bake for 12-15 minutes or until golden.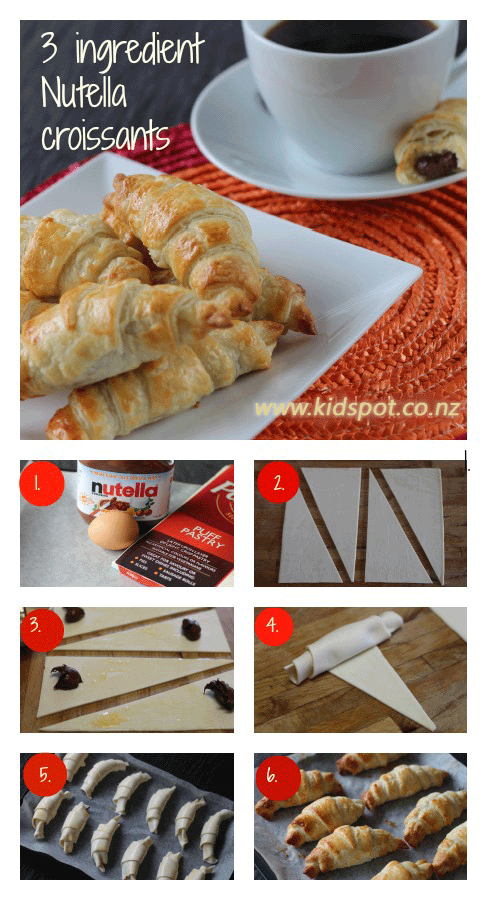 Notes:
If you don't have Nutella you can fill these croissants with a tablespoon of chocolate chips in each roll.
You could even fill these with jam instead of Nutella.
This recipe was created by Jennifer Cheung for Kidspot, New Zealand's best recipe finder.
Find related 3 ingredient recipes