One pan chicken and sage dinner recipe
When you have to get dinner on in a hurry, then this one pan chicken and sage dinner is your friend. It uses chicken breasts, no-peel potatoes and snap frozen vegetables all in one pan. Does it get any easier?
Serving Size:
4
Category:
Ingredients:
4 small (1kg) chicken breasts
2-3 tbsp olive oil
6 Ruby Lou potatoes (or any washed potatoes)
1kg garden mixed frozen vegetables (we used a mix of cauliflower, broccoli, carrots and beans)
2 lemons (one to squeeze over and one to serve on the side).
1/4 cup fresh sage leaves
Method:
Step 1. Line a baking dish with baking paper and place chicken breasts into the centre. Drizzle with olive oil.
Step 2. Dice potatoes into cubes and add them to the pan on one side of the chicken. Pour still-frozen vegetables into the pan on the other side of the chicken. Season well with freshly cracked salt and pepper and drizzle generously with olive oil. Squeeze lemon over the pan and scatter sage leaves over the top.
Step 3. Seal pan with foil tightly over the top.
Step 4. Bake for 40-50 minutes. Remove foil and bake a further 20 minutes. Serve with lemon wedges.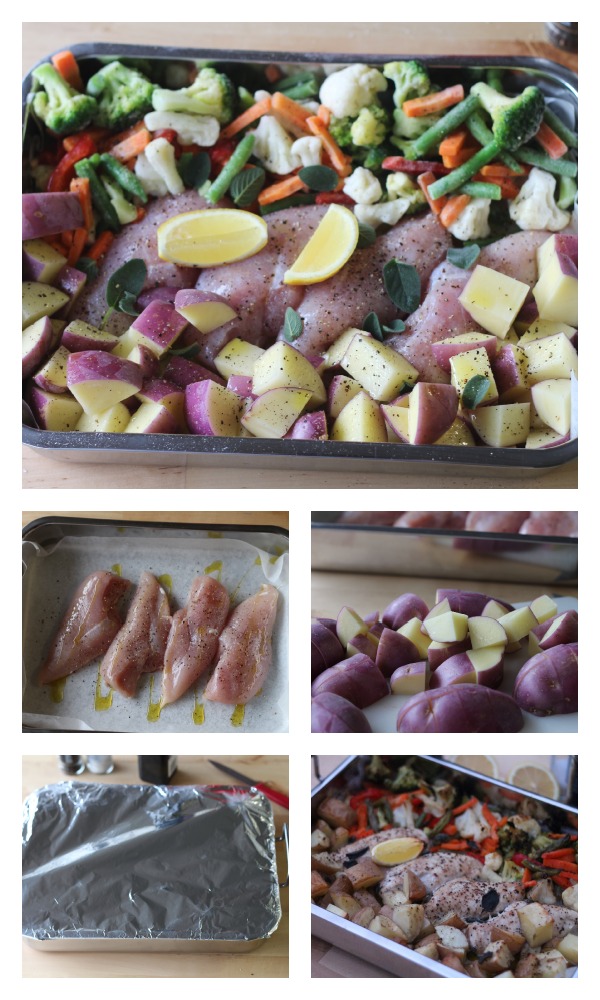 Notes:
Find more chicken recipes: