One pan chocolate cake recipe
This delicious chocolate cake is mixed and baked all in one pan and less washing up AND cake is what we all want! This moist cake is also egg-free.
Serving Size:
8
Category:
Cakes & Baking, Chocolate, Easy cake recipes
Special Info:
Egg free
Ingredients:
1 1/2 cups (225g) plain flour
1 cup (220g) caster sugar
3 tbsp cocoa
1 tsp bicarbonate soda
1/2 tsp salt
1 cup (250ml) cold water
1/3 cup (80ml) vegetable oil
1 tsp vinegar
1 tsp vanilla extract
Method:
Step 1. Preheat oven to 180°C (160°C fan-forced). Find a 20cm x 20cm square non-stick baking pan.
Step 2. Place the flour, sugar, cocoa, bicarbonate soda and salt straight into the cake pan. Whisk together to combine.
Step 3. Add the remaining ingredients to the pan and whisk well.
Step 4. Bake for 25-30 minutes or until a toothpick placed into the centre comes out clean.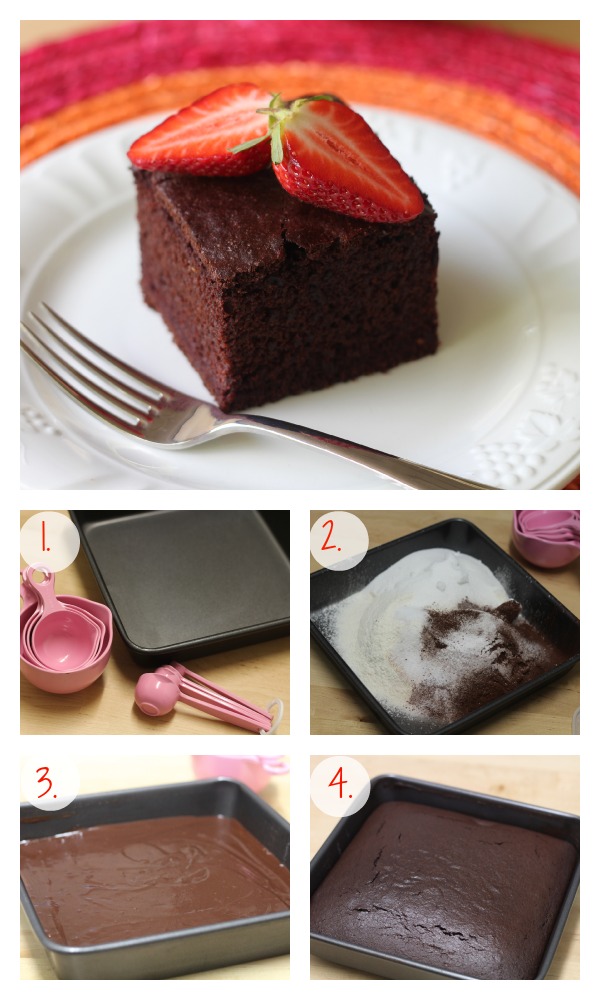 Notes:
Related chocolate cake recipes: