Mini Grinches recipe
This is more of an assembly job than a recipe but lots of fun nevertheless! Plus, it's got to be one of the healthier Christmas treats around and that in itself is reason to give these Grinches a go ...
Serving Size:
Makes 12
Category:
Ingredients:
12 small strawberries
12 green grapes
1 banana
12 white mini marshmallows
Method:
Step 1. Hull the strawberries by neatly slicing the green stalks away. Cut 6 wooden skewers in half.
Step 2. Slice a banana into 1cm rounds and set aside.
Step 3. Thread the marshmallow, strawberry, banana and grape onto the skewer as you see in the photo.
Step 4. Serve - reminding everyone to remove the skewers before tucking in!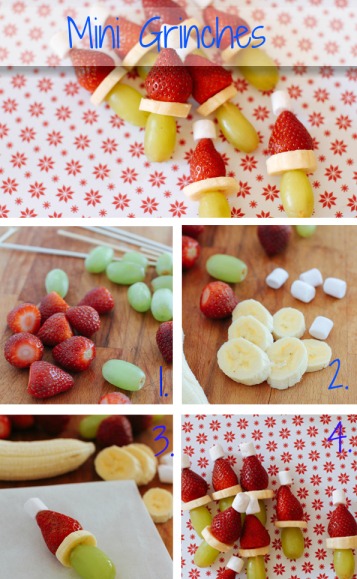 Notes: