Cookie dough truffles recipe
There's no need to bake cookies for a delicious treat or gift. Just roll the raw dough into balls, freeze them, then dip them in luscious melted chocolate for these decadent cookie dough truffles.
Serving Size:
Makes 24
Category:
Confectionery, Christmas baking and confectionery, Christmas gift recipes
Ingredients:
1/2 cup (125g) unsalted butter, softened
1/2 cup (80g) brown sugar
1 tsp vanilla extract
1 cup (150g) plain flour
3/4 cup dark choc chips
2 cups dark chocolate melts
Method:
Step 1. Beat butter and sugar until pale and fluffy. Add vanilla. Beat in flour until just combined. Stir through choc chips.
Step 2. Form into 24 small balls. Freeze in a single layer for one hour.
Step 3. Place chocolate melts in a bowl over a saucepan of simmering water. Stir until melted.
Step 4. Dip frozen cookie dough balls into melted chocolate. Place on a rack to set.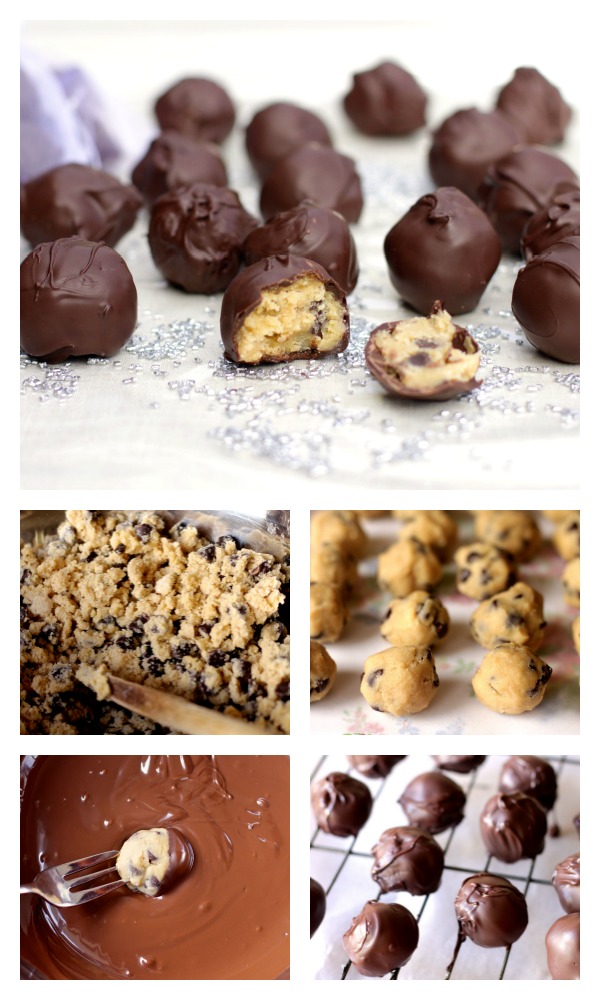 Notes:
You can melt chocolate in the microwave if you prefer.
Store truffles in a resealable bag in the fridge or freezer.
These make a lovely Christmas gift - package them in a cellophane bag or gift box tied with bright ribbon.
If you prefer dark chocolate then these Dark chocolate truffles will hit the spot!
You can make these Oreo truffles for friends but you will need to watch the kids don't steal them first.
We covered these little chocolate explosion Truffles in cocoa.
These Orange and cranberry truffles are perfect for the festive season with their zesty orange flavour.
This recipe was created for Kidspot, New Zealand's best recipe finder by Greer Worsley, who blogs at Typically Red.
Find more sweet recipes