Pineapple fried rice recipe
This delicious Thai-style pineapple fried rice uses fresh chunks of pineapple and salty fish sauce for that authentic Thai flavour. Best of all, it cooks in under 10 minutes.
Serving Size:
4-6
Category:
Dinner, Food kids will eat, Kids meals, Rice, Thai recipes
Ingredients:
4 cups cooked rice, cooled
4 tbsp peanut oil
1 medium brown onion, finely diced
6 cloves garlic, crushed
1 tbsp freshly grated ginger
1 bunch snake beans, sliced
1/2 cup diced tomato (flesh only)
1 1/2 cups pineapple, chopped
4 tbsp fish sauce
1 tsp white sugar
4 shallots (green onions), finely sliced
Method:
Step 1. Break up cold rice to remove any lumps.
Step 2. Heat half of the oil in a hot frying pan and gently fry the onion, garlic, ginger and snake beans for 2-3 minutes until fragrant.
Step 3. Add the remaining oil and rice. Cook on high heat for 3 minutes, stirring continuously.
Step 4. Add the tomato, pineapple, fish sauce and sugar. Continue to stir-fry for 3-4 minutes. Add shallots and cook for a further minute or two. Serve warm.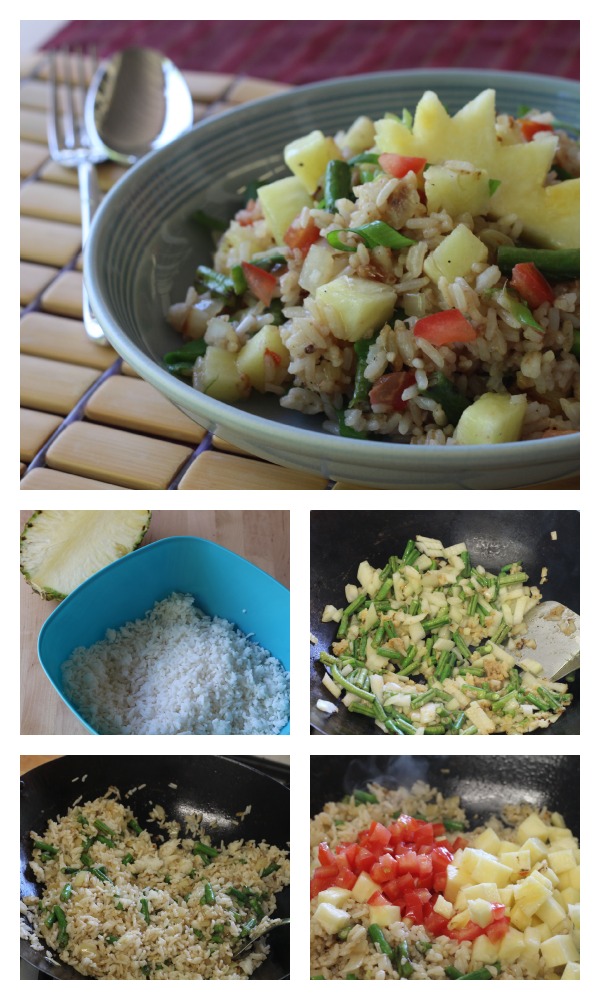 Notes:
We used peanut oil for flavour but you can use vegetable oil if you have it on hand.
A handful of cashews gives this dish extra texture and flavour, and makes it that little bit more special.
Snake beans are a long green bean that can be found in most Asian shops or greengrocers. If you can't find them, just substitute for regular beans.
This recipe was created by Jennifer Cheung for Kidspot, New Zealand's best recipe finder.
Related rice recipes