Upside-down banana bread recipe
This upside-down banana bread has a deliciously sticky layer of caramel glaze poured over it after baking. Just in case you needed it to be a little healthy we have made it with wholemeal flour.
Serving Size:
10
Category:
Banana , Cakes & Baking, Lunchbox
Ingredients:
1/2 cup (100g) brown sugar
3 tbsp butter, cut into small pieces
2-3 bananas, sliced into 1cm rounds
1 1/2 cup (225g) wholemeal flour
3/4 (180g) cup white sugar
1 tsp baking powder
1 tsp bicarbonate soda
1/2 tsp salt
1/2 tsp ground cinnamon
1 cup mashed bananas
2 large eggs, lightly beaten
1/3 cup (80ml) vegetable oil
1/3 cup (80ml) buttermilk
1 tsp vanilla extract
For the caramel glaze:
2 tbsp butter
2 tbsp brown sugar
2 tbsp cream
Method:
Step 1. Preheat oven to 180°C (160°C fan-forced). Line a loaf pan with baking paper and set aside. In a small saucepan, heat the butter and sugar together until melted and pour into loaf pan.
Step 2. Place sliced bananas, cut side down, into the pan on top of the caramel mixture.
Step 3. In a mixing bowl, combine all dry ingredients and add wet ingredients. Stir with a wooden spoon until the mixture is entirely wet and then pour into baking pan.
Step 4. Bake loaf for 45-50 minutes or until a skewer placed into the centre comes out clean. Leave in the pan to cool for 20 minutes before turning out onto a serving plate. Place all ingredients for the caramel glaze into a small saucepan. Heat over a medium heat, stirring continuously until all of the ingredients are melted and combined. Pour over the cake gently.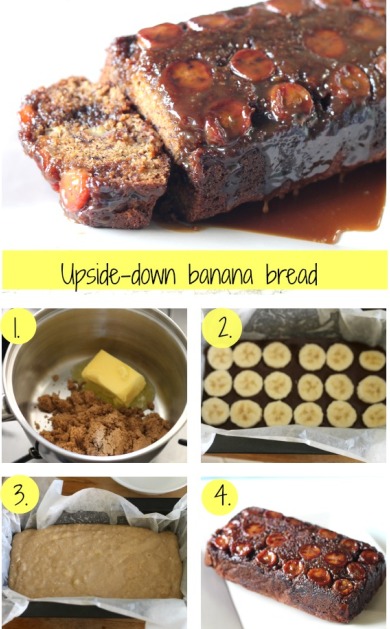 Notes:
This upside-down banana bread is the most decadent version of banana bread that I have ever seen. It has all of that caramel glaze from the last step soaked into the actual bread. The end result is sticky and delicious and oh so good with ice cream.
I made the glaze right after I made the first layer. The glaze is fine to stand until the bread is baked and cooled.
It is best to use over-ripe bananas for the cup of mashed banana. A cup takes about two large bananas mashed.
If you are looking for recipes to use up leftover bananas then you cannot go past these Banana bread muffins, Banana cake with butter frosting and Banana cupcakes with honey cream. All of these recipes are enhanced by ripe or overripe bananas.
If you want to get an extra serve of fruit in at breakfast then you could try this Banana oatmeal breakfast or these Banana smoothie pancakes with chia gel.
For a delicious dessert you can serve these Banana fritters with ice cream.
If you prefer a healthy snack then toddlers will fall in love with these Banana palm trees.
If you are looking for a delicious lunch box snack then try these Banana pikelets. They travel well and taste delicious.
This recipe was created by Jennifer Cheung for Kidspot, New Zealand's best recipe finder.