Vietnamese chicken salad recipe
This salad is fresh and healthy while being big on flavour and low in fat. It's the perfect summer dinner and travels well for picnics with the dressing on the side.
Serving Size:
4-6 serves
Category:
Chicken, Healthy recipes, Salads
Ingredients:
2 chicken breasts, trimmed
1/2 wombok (Chinese) cabbage
4 shallots
2 carrots
2 Lebanese cucumbers
1 bunch mint
1 bunch coriander
4-6 fresh lime cheeks, for serving
Dressing:
2 tbsp brown sugar
1/3 cup (80ml) lime juice
1/3 cup (80ml) fish sauce
2 red bird's eye chillies, de-seeded and chopped finely
Method:
Step 1. Place chicken in a saucepan and cover with cold water. Bring to the boil over high heat then reduce heat and cover. Cook for 8-10 minutes or until cooked through. Remove from heat.
Step 2. Slice wombok and shallots into fine slices, cut carrot and cucumber into matchsticks and strip the leaves off the mint and coriander bunches. Place into a bowl and mix the salad together.
Step 3. Place all dressing ingredients into a bowl and mix together until the sugar is dissolved.
Step 4. Remove chicken from the pan and using two forks, shred into bite-sized pieces. Place salad on plates and top with chicken. Drizzle lightly with dressing and serve with a lime cheek on each plate.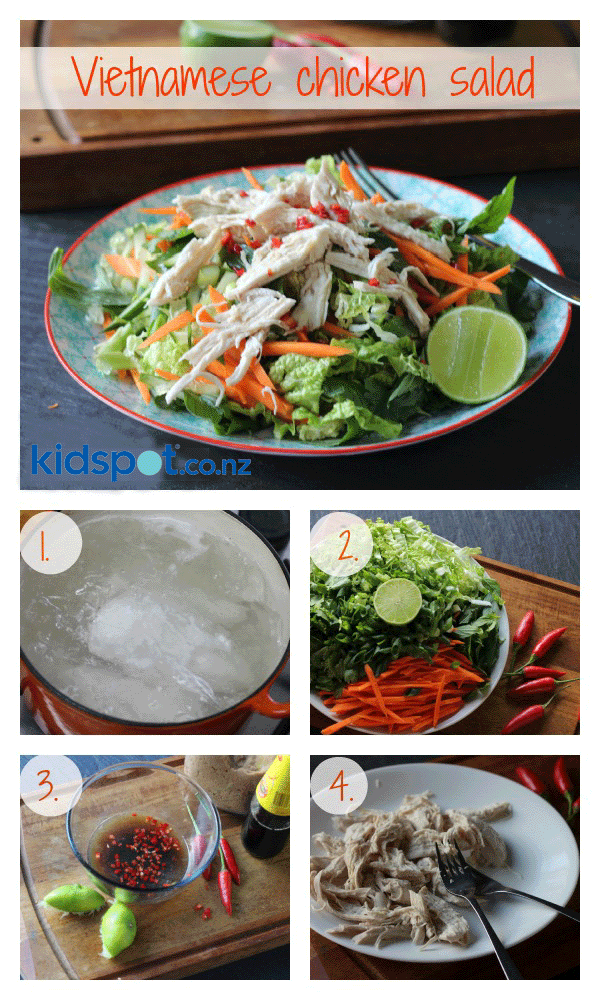 Notes:
Fresh is best for all of these ingredients. Keep the herbs moist and cold until you are ready to use them.
If you are preparing this to serve later you will need to store it without the dressing and dress just before serving.
There are a number of other vegetables and herbs that you can add to this salad. You can also use Thai basil and fresh been sprouts to give your salad extra crunch.
If you want this salad to be a portable meal then you can try our Vietnamese chicken salad in a box.
Flavours are fresh and healthy in these Vietnamese rice paper rolls. Just add some vermicelli to your salad and wrap.
This Vietnamese caramel salmon is sticky and sweet and packed full of flavour. You can use this salmon in place of the chicken in this salad.
Your family will love these Vietnamese-inspired beef and noodles recipe. It's fresh with a health-boosting stock.
This recipe was created by Jennifer Cheung for Kidspot, New Zealand's best recipe finder.