Parmesan chicken schnitzel recipe
Everyday chicken schnitzel gets a delicious update with this crispy parmesan crumb. Double the recipe so you have extra to serve in sandwiches the next day.
Serving Size:
Serves 4
Category:
Ingredients:
1 cup (85g) parmesan cheese, grated
1 cup (80g) fresh breadcrumbs
1/4 cup fresh herbs, finely chopped
600g chicken breast fillets
1/2 cup (75g) plain flour
2 eggs, beaten
1/4 cup (60ml) olive oil
Method:
Step 1. In a large dish, combine parmesan, breadcrumbs and herbs.
Step 2. Slice chicken fillets horizontally into two or three flat pieces.
Step 3. Place flour in a dish and season well. Place beaten eggs in a separate dish. Dust chicken pieces in flour, shaking off excess. Dip in beaten egg, then coat well in parmesan breadcrumb mixture. Refrigerate until needed.
Step 4. Heat oil in a large nonstick frypan over medium heat. Cook crumbed chicken for 3-4 minutes or until golden. Turn and cook for a further 2-3 minutes until cooked through.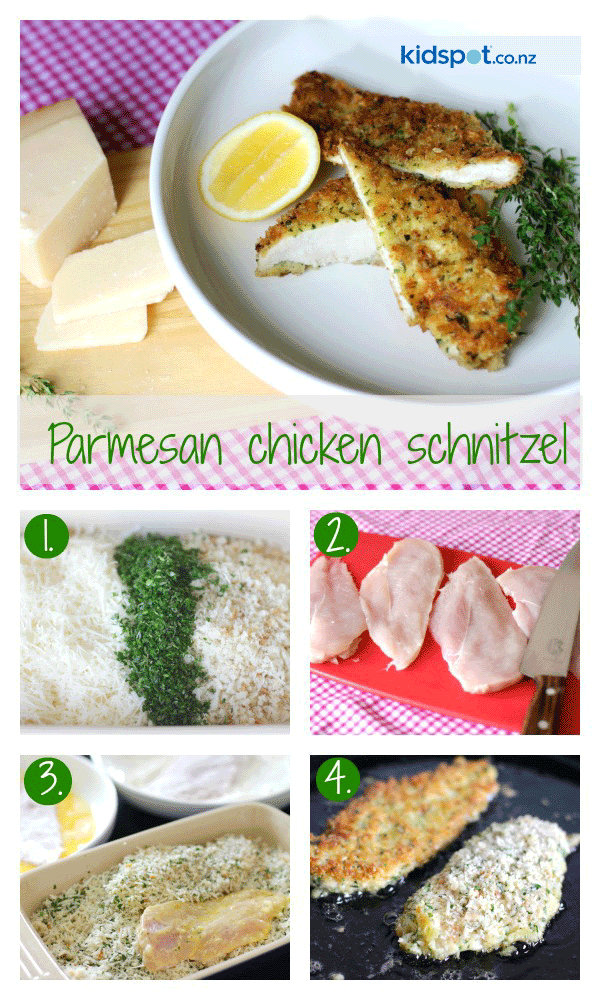 Notes:
I used Italian parsley and thyme, but you could use whatever fresh herbs you have to hand. You could also use 1-2 teaspoons of dried herbs if you don't have fresh herbs.
If you prefer your schnitzel thin, place the sliced fillets between two sheets of baking paper and press firmly to flatten.
Dry store-bought breadcrumbs would be fine, but it's easy to make your own by blitzing day-old sourdough bread in a food processor.
Drain cooked schnitzel on a wire cake rack to prevent the crumb becoming soggy.
You can make this schnitzel into a cheese-y Chicken parmigiana for a slight variation.
If you are fond of an extra crunchy schnitzel then give this Crunchy chicken schnitzel a go.
If you think you need a flavour boost then add some garlic like we have in this Garlic chicken schnitzel.
Healthy chicken schnitzel is almost a contradiction but we have managed to reduce the fat in this one.
This recipe was created for Kidspot, New Zealand's best recipe finder by Greer Worsley, who blogs at Typically Red.