Homemade doner kebabs recipe
These homemade doner kebabs have the same delicious lamb that you get from your Middle Eastern takeaway. Make it at home to share with your whole family.
Serving Size:
8
Category:
Ingredients:
1kg lamb mince
2 tsp oregano
1 tsp mixed herbs
2 tsp garlic powder
1/2 tsp cayenne pepper
2 tsp salt
1 tsp pepper
To make the kebab:
2 cups iceberg lettuce, shredded
2 tomatoes, sliced
1/2 cup garlic sauce
1 cup hummus
2 cups tabouleh
8 pieces Lebanese bread
Method:
Step 1. Preheat oven to 200°C (180°C fan-forced). Place the lamb, herbs and spices all into a food processor and mix until just combined. Alternatively, you can knead it together with your hands, but you will need to do it for 5 minutes so it is well combined.
Step 2. Lay out two large pieces of foil and place half of the lamb mixture on each. Wrap into a tight loaf (about 20cm long) and tuck in ends. Place into a baking dish and bake for 35-40 minutes.
Step 3. When done, leave to stand for 10 minutes while you prepare salads and sauces.
Step 4. Just before you serve, remove doner kebab meat from the foil packs and slice thinly. Serve slices on bread with salads and sauces.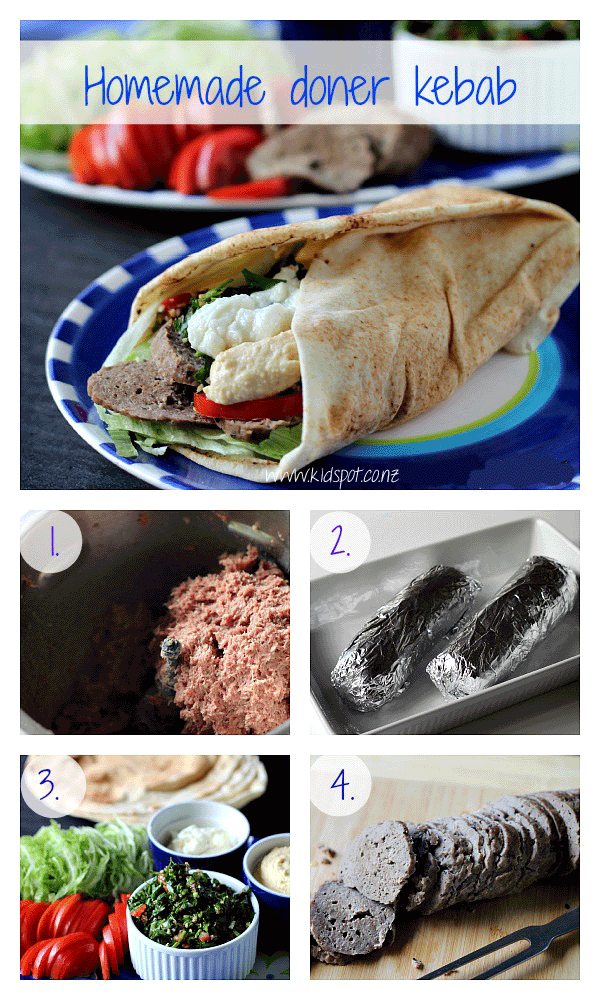 Notes:
We made this into two loaves so it didn't take too long to cook. But you can make one large loaf and increase the cooking time by 10-15 minutes.
You can also make this dish in the slow cooker. Just place the wrapped meat into the base of your slow cooker and cook on low for 5-6 hours or high for 3-4 hours.
You can halve the portions in this recipe to serve 4.
There is quite a lot of salt in this dish so if you are serving it to babies I would reduce the salt by half.
You can also make these Easy lamb koftas recipe using lamb mince as well.
This easy Easy shepherd's pie is a great way to use lamb mince.
If you prefer to roast your lamb then you can try this Greek-style roast lamb. Another traditional Greek dish is Greek lamb pastitsio.
These Gozleme are filled with a delicious savoury lamb mince.
This Garlic and rosemary BBQ lamb will cook to perfection on your barbeque.
You can use up any leftover lamb in this Lamb and lentil soup.
This recipe was created by Jennifer Cheung for Kidspot, New Zealand's best recipe finder.