Easter bunny breakfast recipe
Make Easter morning extra fun by turning fried eggs and bacon into this cute and simple Easter bunny breakfast. The kids will be hopping to the table for this one!
Serving Size:
Serves 1
Category:
Breakfast, Brunch, Easter treats, Eggs
Ingredients:
1 rasher streaky bacon
1 egg
3 chives
2 blueberries
Method:
Step 1. Cut bacon rasher in half. In a nonstick pan, fry for 2 minutes each side. Remove to a plate lined with absorbent paper.
Step 2. Fry egg over gentle heat for 2-4 minutes until cooked to your liking.
Step 3. Place egg on a plate. Cut chives in half and arrange on egg as whiskers.
Step 4. Position blueberries as the eyes and fried bacon as the ears.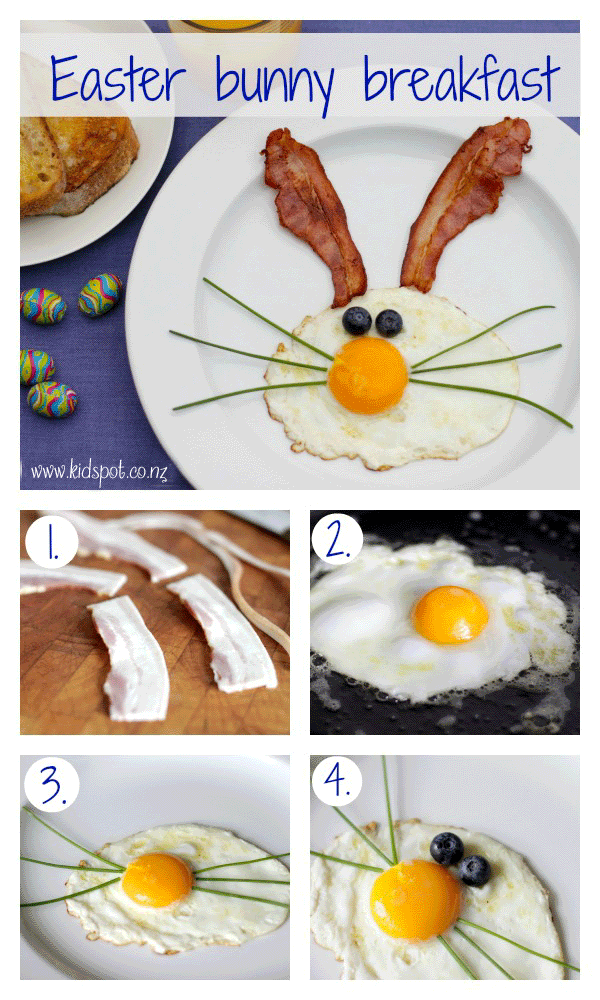 Notes:
Serve with toast on the side for a complete breakfast.
Choose free range eggs where possible.
On the day you have your Easter egg hunt you could make these cute Bunny butt pancakes. They are just like those bunnies in the garden.
If you love Hot cross buns you will love these Hot cross cookies. They are the perfect compromise and much faster to make than their traditional cousins.
These Coconut cream eggs are perfect for when you need to know exactly what is in your Easter treats. The kids will also love making these with you.
This Cream egg cheesecake is worthy of being the centrepieces for your special Easter dinner. It is easy to make ahead and will please the whole family.
These Carrot topped cupcakes are topped with sweet marzipan but don't be fooled into thinking they are all sweet. The cupcakes under the carrots have a zingy lime flavour.
This recipe was created for Kidspot, New Zealand's best recipe finder by Greer Worsley, who blogs at Typically Red