Blueberry Banana & Apple Buckwheat Pancakes recipe
Rafferty's Garden are delighted to bring you this delicious buckwheat pancake recipe using Rafferty's Garden Blueberries, Banana and Apple Smooth Baby Food.

This was developed by Rafferty's Garden Ambassador, Chef Zoe Bingley Pullin.
Serving Size:
10 mini pancakes
Category:
Special Info:
Egg free, Gluten free
Ingredients: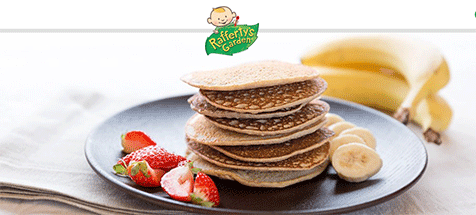 Pancake Batter
1 cup of buckwheat flour
1/4 tsp. baking powder
1 cup milk (for a dairy alternative use coconut, almond or your choice)
1/2 tsp. vanilla extract
1tsp cinnamon, ground
1 pouch of Rafferty Blueberry Banana and Apple Puree
1 tbsp. butter, for cooking
Method:
Step 1
Combine flour and baking powder in a bowl and mix well.
Step 2
Add the Rafferty's Garden Blueberry Banana and Apple Puree, and milk. Mix into a batter consistency
Step 3
Melt butter or coconut oil over medium heat, spoon batter in pan and flip pancakes once one side is cooked
Step 4
Top pancakes with yoghurt and strawberries
Notes:
Suitable for babies from 6 months.