Lunch box nutrition tips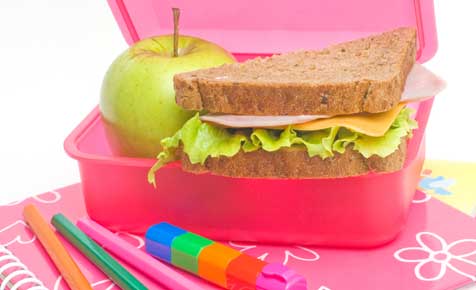 Children who eat well during the school day are more likely to concentrate better at school and get the nutrition they need for good health and development.
Including nutritious as well as interesting foods in children's lunchboxes can be a challenge. Be creative and offer a wide variety of different foods each day following the Dietary Guidelines for Children and Adolescents as a guide.
Try these tips for making sure their lunchbox packs a few surprises as well as a healthy, nourishing meal in the middle of the day:
As well as something to drink, a healthy packed lunch should contain:
Offer a variety of foods throughout the week
Make sure food looks good as well as tastes good by adding different colours and textures: baby sweet corn, sliced red capsicum, carrots and cucumber.
Always include a drink in the lunch box to make sure they get enough fluid. Water is the best choice.
Make sweet stuff such as chocolate, biscuits and cakes an occasional treat rather than everyday items.
One portion of vegetables or salad and one portion of fruit (fresh, canned or dried can all count)
One portion of a milk or dairy item such as low fat milk, cheese, yoghurt, fromage frais or a yoghurt drink
One portion of lean meat, chicken, fish, eggs, beans or other protein source
One portion of a carbohydrate rich food, such as bread, pasta, rice, noodles or potatoes
Find more healthy lunch box ideas: