Car safety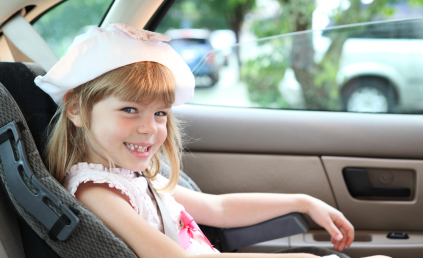 The road statistics each year clearly demonstrate that you can never be too careful with road and car safety particularly when you have children with you.
Car safety for babies
Ensure you choose a car restraint that's appropriate for your baby's size and weight. Babies under 8kg or 70cms should always travel in a rear-facing restraint.
Babies should have good head control and be able to sit before they are moved to a more upright, front-facing car seat.
Make sure that your baby's restraint straps and fasteners are adjusted to fit his body correctly.
Have the restraint properly fitted to your car - every car model has a slightly different way to installing capsules and car seats so make sure that yours is correctly and safely fitted.
Never hold your baby while the car is moving, for example, while travelling in a taxi, as your arms aren't strong enough to protect him in the event of an accident.
Babies and young children can overheat quickly in the car, so make sure that they are suitably dressed while travelling and that there is appropriate protection from the sun.
Car safety for children
Ensure you choose a car restraint that's appropriate for your child's size and weight. Your child should always travel in the back seat. While it isn't against the law for children to travel in the front seat, this is the least safe seat in the car and with the additional hazards that airbags pose, it is highly recommended that children sit in the back seat.
Teach your child to get in and out of the car from the footpath - this will remove any risk associated with him being on the road.
While there are some devices that can be used to prevent toddlers from undoing their seatbelts, these are not recommended as seatbelts are meant to be easily undone in case of an accident.
Don't allow you child to lie down across the back seat as this is an unsafe position in the event of an accident.
Your child's car seat should be used until he reaches the maximum allowable weight for the seat or he is too tall to use the shoulder straps.
Booster seats can be used until your child reaches the maximum allowable weight for the seat - it isn't recommended that booster seats are used by a child who weighs less than the minimum weight recommendation as his body weight partially secures the booster seat.
A five-point child safety harness is recommended for children 14 - 32kg as standard car seatbelts (which are designed for adult use) aren't safe to use until your child is a standing height of 148cm, a sitting height of 74cm and/or a weight of 37kg - this is the approximate size of an 11 year old.
Find more:
It is against the law:
To leave your child in a car unattended - even for a short time
For anyone to be unrestrained in the car while it's moving
To have a child on your knees while the car is moving - this includes having a seatbelt around you both
To have two people share the same seatbelt
To ride in the luggage compartment of a vehicle
IMPORTANT!
The vehicle driver is responsible for ensuring that all passengers under the age of 16 are correctly restrained.
Tips for practical car safety
Having the correct restraints properly installed in your car goes a long way to ensuring that everyone stays safe in your car, but there are other ways you can develop good car safety.
Lead by example. Your child is more likely to develop good car habits if he sees you following the same rules you set for him. Make sure that you always have your seatbelt on before you drive away, and always insist that your child does too.
Insist on seatbelts at all time. If you have issues with getting your child to stay buckled up, stop your car and tell him that you won't continue driving until he sits in his seat with his seatbelt on.
Don't allow siblings to 'help' you by buckling and unbuckling each other's seatbelts as this gives them permission to move around in the car - and they may decide to do this while the car is moving.
Don't be distracted by unruly car behaviour. If your child is refusing to co-operate or is being loud and having an impact on your ability to concentrate while driving, pull over and sort out the backseat issues before hitting the road again.
Stop, revive, survive. If you're driving long distances, it's extremely important that you take regular breaks to avoid exhaustion. Regular breaks are a great way to let children blow off a little energy too.
Ensure that your line of sight is always clear. Never put anything in the windows of your car that will block your vision - a nappy in a side window to keep sun of your child will limit your view when driving.
This article was written by Ella Walsh for Kidspot. Sources include Vic Govt's Better Health Channel, Raising Children Network and SA Govt's Parent and Child Health.