School lunch shortcuts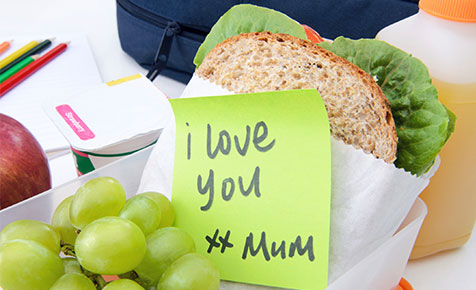 There's about 200 days in the average school year. Allowing for the occasional tuckshop order, sick day and day-off-just-because day, the average mum packs about 195 lunches a year, or around 1,170 school lunches during her child's primary schooling years. And that's just primary school. And one child. If you have three kids and you pack their lunches every day of their schooling life, you will have packed over 7,000 school lunches.
I think I need to sit down.
Actually, sitting down is very good advice because I'm planning on batch-cooking a whole load of school lunches this year. Why spend hours cooking on my feet when I could be doing it from the comfort of my kitchen table. Stirring, measuring, weighing – it can all be done seated just as easily as standing. That's my second tip for you – batch cooking was my first.
Batch-cooking
Batch-cooking the kids' lunch items just makes good sense. There are so many dishes that can be successfully frozen for a few weeks and defrosted in the lunch box. Not only does it make life significantly easier, it keeps food cool without needing a complicated battery-operated refrigerated lunch box (have they invented one of those yet).
I'll share my favourite ideas for batch cooking in a moment because first we need to talk about fruit. To increase fruits chance of being eaten, it needs to be cut into kid-sized portions and for good nutrition (as well as interests) sake, serving more than one kind of cut-up fruit each day makes sense. Enter the weekly fruit cutting session.
Pineapple, mango, melon, strawberries, blueberries, grapes – even oranges and apples – can all be frozen. On Sundays (or Mondays or Tuesdays or whatever day works for you), simply wash, peel and cut the fruit into bite-sized pieces and line up on a piece of baking paper lining a flat baking tray. Pop into the freezer and once frozen you can sort into lidded containers that can go straight into the lunch box. To reduce the risk of freezer burn, try to stock containers that just fit the fruit portion.
Once you've got your fruit sorted for the lunch box, it's just a matter of adding in the extras to make sure the lunch box is nutritionally balanced. Having a 'formula' for your lunch boxes saves a lot of time. My general lunch box formula (but check nutritional guidelines to find the best formula for you) is:
One part fruit
Two parts low-GI source of carbohydrate (think wholegrain bread or wraps, wholemeal pasta, wholemeal scones, scrolls or pikelets)
One part source of calcium (think cheese portions, milk or yoghurt – a good source of protein too)
Two parts lean protein (cheese portions, tuna, salmon, eggs, beans or lean meat)
Lots of parts water (I pack it 'part frozen' so it stays cool all day and encourages the kids to sip from their water bottle throughout the whole day. To make 'part' frozen, my husband simply pops the drink bottles into the freezer when he wakes up at about 6am and I put them into the school bags when we head out to school at about 8.30am.)
Every now and then it's nice to pop a treat into the lunch box mix too – a small box of sultanas, popcorn or even a packet of plain chips. Sometimes I even throw in a small chocolate (gasp!). I've also got a heap of those reuseable pouches called Sinchies. I put pureed apple or custard or homemade yoghurt or the occasional homemade chocolate pudding into these. These all freeze in the Sinchie pouches too so even the treat comes straight out of my (very large) freezer and into the lunch box.
But back to batch-cooking… here are my ten favourite lunch box favourites to batch cook and freeze in individual portions. On a school morning, I throw a portion into the lunch box and off to school they go.