Feeding kids during the holidays
Fearing the impact of school holidays on your pantry and wallet? Kidspot's own Jennifer Cheung, experienced mum-of-4, lets you in on her tricks.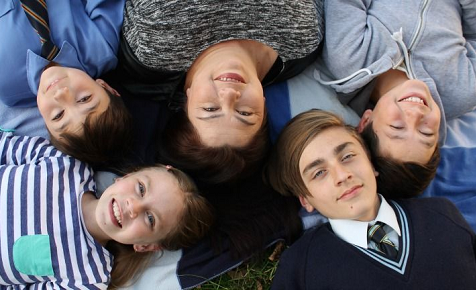 I don't know if there's such a thing as a cool, calm and collected parent during school holidays. But Kidspot's resident food editor Jennifer Cheung is probably the closest you'll ever witness. She has four kids ranging in age from seven to 13, and when she's not standing on a soccer field or packaging up food parcels for her mother-in-law, she's producing the fast dinner ideas that you see on Kidspot every week. How does she do it?
Here are her top tips for managing kids in the school holidays.
1. Take it outside every other day
"Sometimes it's in the morning, sometimes it's at 3pm when I've finished up work for the day. Just an outing to the park will do."
"We also do a movie or bowling. But we have an outing every second day. That way we can stay in every other day and I can get some work done."
Roping in your teenager to look after one of the younger ones can help manage age gaps.
2. Keep up with lunches
You're proabable asking, why would you give yourself more work to do?
Because it means they won't spend all day every day asking you for food.
"I put a few extra treats in it for the holidays." Jen says.
3. Make your very own drinks station
Have a section of the kitchen bench dedicated to cups and water. To avoid the kids using every single cup available and leaving them all over the house, have different colours and assign each child a colour for the day.
4. Be smart with your grocery shop
Before you shell out on expensive goodies for holiday treats, Jen says there's no need to 'throw money at the problem'.
"Pre-cubed cheddar cheese costs as much per kilo as the most expensive imported cheeses. That's madness!" she says.
"I buy a block and cut it into cubes, store it in containers in the fridge. They can help themselves when they need a snack."
She also buys lots of dips, or makes her own (including her Kidspot-famous corn relish dip made from sour cream and a jar of corn relish) and lots of plain crackers.
Which brings us to …
5. Stock up on snacks (of the homemade variety)
A little bit of prep goes a long way toward making your days run smoother. This means, preparing carrot and celery sticks, cubing up your cheese and having dips on hand.
Speaking of which, here's some easy dip recipes here:
6. Popcorn is the word.
No, of course she doesn't mean the expensive, sugar-and-salt-laden microwave stuff. Popping popcorn the old fashion way can be a fun activity to do with the kids - see who can keep shaking the pan the longest! And allows you to make your own popcorn flavours, like:
7. Have an early dinner
Now that you don't have to do the school run or take the kids to after-school activities, you can use that time to prepare an early dinner.
Personally I LOVE early dinner – 5.30pm is around the time my kids start baying for blood and raiding the pantry in a really annoying way. Serving dinner just solves a multitude of problems.
"Sometimes we do a hot lunch and then have toasted sandwiches for dinner," she says. "Which is also a nice way to break up the routine."
8. Make more than one dinner in one go
No, I'm not asking you to multi-task like a pro. You can make two dinners at once by simply doubling the batch of whatever you're making.
Jen's list of dinners that keep on giving include:
So what is Jen doing for the holidays? She's going camping - in true Jen style:
"I load the bar fridge onto the trailer, I have a big queen blow-up mattress that I set up with my doona and throw cushions, I take lots of wine and I spend the week reading and relaxing while my kids run wild."
This article was originally written for Kidspot.com.au and has been adapted for Kidspot.co.nz
Do you have any holiday tips or tricks?