An unexpected treat for travellers! This picturesque property has funny signs and scenes throughout. It has a playground, and a path that will lead you over bridges, past water lily ponds, waterfalls, waterwheels and magical fountains!
SHARE:
Editor's picks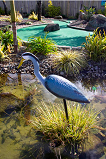 Birdwood Springs Mini Putt
This mini putt course is all about popular children's books, with characters like Kee-Wee, Racketty the Wizard and Mayor Morris Morepork making an appearance. 18 fantastic holes make for maximum fun with minimum skill.
Location:

Birdwood Springs Mini Putt

Ages:

All Ages / Family, Baby+Toddler, Preschool (2-4), Primary Age (5-10), Older children (11+)

Cost:

Family pass under $50

Contact Details:

07 866 0064
View more...